Odyssey
Pinot Noir 2021 750ml
Odyssey Pinot Noir 2021 750ml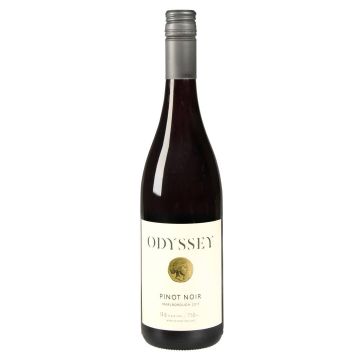 The Odyssey Vineyard is one of the most elevated sites in Marlborough and situated on the acclaimed Southern Valleys. Permeable silt loam over clay gives rise to these complex, dense Pinots with beautiful forest fruits and savoury flavours. Six different Dijon Clones of Pinot Noir are close planted in various sites on the vineyard, fermented separately to enhance each component ,then ultimately blended.
The vintage of 2018 was small which has led to this elegantly concentrated wine with abundant fruit flavours and a sweet palate impression. Meticulous canopy management all done by hand has resulted in fruit in the best condition being delivered to the winery. Harvested 18 March- 30 March 2018.
The Odyssey Wines Pinot Noir is handpicked from the 'home' vineyard in the Brancott Valley Marlborough. The wine exhibits on the nose ripe cherry fruit flavours and a subtle oak influence. These flavours follow through onto the palate which has great fruit weight, a silky texture, firm tannins and an elegant finish.
Organic.
$32.32AUD
Price based on case of any 15 wines, all-inclusive of freight, taxes, duty and insurance from NZ Producer to your door in Australia. All prices based on live exchange rate.
back to top