Miro Vineyard
Summer Aphrodisiac 2018 750ml
Miro Vineyard Summer Aphrodisiac 2018 750ml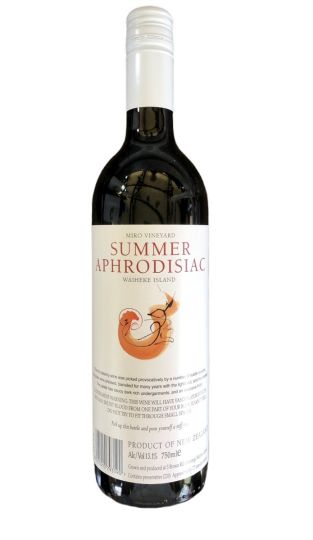 "This hot, steamy wine was picked provocatively many years ago by a number of nubile nymphs. The juices were stomped on, pressed and then barrelled for many years with the lights out. The palate has saucy rich undergarments and an explosive finish. GOVERNMENT WARNING: THIS WINE WILL HAVE VASODILATOR EFFECTS AND WILL SHUNT BLOOD FROM ONE PART OF YOUR BODY TO ANOTHER. DO NOT TRY TO FIT THROUGH SMALL SPACES."
Order a bottle of this and pour yourself a stiff one......* *The information given about this wine is tongue in cheek and no claims made about it's properties should be taken seriously...
It is a blend of Cabernet Sauvignon, Cabernet Franc, Merlot & Malbec. The wine has floral aromatics and a soft, supple and lingering fruit sweetness. A fragrant, soft red, this wine has rounded oaky notes and an enchanting minty note on the nose. Aphrodisiac is ready to drink now, an everyday style that is both affordable and a bit cheeky.
Alcohol by vol: 13.1%
$38.59AUD
Price based on case of any 15x 750ml bottles, all-inclusive of freight, taxes, duty and insurance from NZ Producer to your door in Australia. All prices based on live exchange rate.
back to top