Saint Clair
Pioneer Block 17 Gimblett Gravels Merlot 2015 750ml
Library Collection
Saint Clair Pioneer Block 17 Gimblett Gravels Merlot 2015 750ml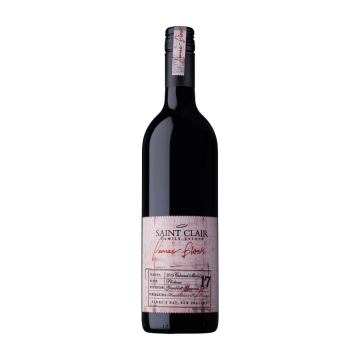 Winemaking: The fruit was harvested when it had reached full physiological ripeness and maximum flavour maturity. At the winery the fruit was held cold for five days prior to fermentation to help extract maximum flavour and to enhance colour stability. A small amount of whole cluster (7.4 per cent)
Viticulture: The fruit was sourced from Saint Clair's own vineyard at Doctor's Creek. The grapes harvested for this wine are from clones 115, 777 and 667 with a whole cluster component of 7.4 per cent was added to the fermentation to add a stems component to the mix. Specially selected cultured yeast were used to carry out the primary alcoholic fermentation, during which the fermenting must was hand plunged up to six times daily at the peak of fermentation. At dryness the wine was pressed, then racked off gross lees to a mixture of 37 per cent new French oak and older seasoned 225 litre oak barriques. During maturation the barrels were regularly tasted until the right balance was achieved (ten months). During this time in oak, the young wine completed malolactic fermentation. The wine was then carefully extracted from oak, blended and prepared for bottling.
Wine Analysis: Alcohol 13.5% v/v Acidity 5.5g/litre pH 3.56
Winemakers: Hamish Clark, Matt Thomson and Kyle Thompson
$62.07AUD
Price based on case of any 15x 750ml bottles, all-inclusive of freight, taxes, duty and insurance from NZ Producer to your door in Australia. All prices based on live exchange rate.
back to top