Blank Canvas
Escaroth Chardonnay 2019
Limited Stock
Blank Canvas Escaroth Chardonnay 2019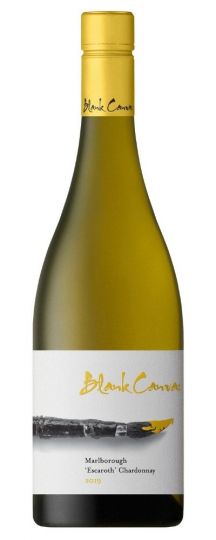 Escaroth Vineyard | Taylor Pass | Marlborough
Escaroth's fire-breathing dragon has found a pile of gold and sat on it. The riches are our new parcel of Chardonnay nestled at the very top of Escaroth's north-facing slope in the Southern Valleys' Taylor Pass. Growers Andy and Kyna have tended the vines zealously since this parcel's reincarnation to Clone 95 chardonnay.
This inaugural vintage has bowled us over with its bright, zesty grapefruit and lemon notes coupled with brioche, musk and savoury toastiness. There is an oyster-shell, chalky texture that is borne upon precise, defined acidity. Wild fermentation, zero battonage, natural malolactic fermentation and a mixed format oak regime (barriques and puncheons – 30% new) results in a complex and layered palate. Maintaining our minimalist philosophy, we bottle it without filtration and it is presented only with sincerity.
Accolades
94 Points "A suave and seamless Chardonnay that's very relaxed in its own skin. This low-yield season has provided excellent fruit concentration. The combination of barrels and puncheons infuses a nutty, savory element and there's also an appetizing waft of smoky bacon. A fine line of lemon-peel-like acidity emerges on the mouthwatering finish. Excellent harmony and will improve with additional bottle age allowing the oak aromas to soften. This is the cuvée's inaugural vintage, and I cannot wait to see the next". Rebecca Gibb MW, Vinous Media November 2020
94 Points "From a north-facing slope in the Southern Valleys Taylor Pass. Concentrated savoury chardonnay with chalky, oyster-shell, mineral, grapefruit, hazelnut, almond and baguette crust flavours. A youthful wine that promises to develop well in bottle." 22/5/2020. Bob Campbell MW, The Real Review
94 Points "Intense aromas of wood smoke and barrel spice then ruby grapefruit, peach and baked orchard fruits. Youthful and very inviting bouquet. On the palate - weighty, silky, warm, fleshy, spicy, smoky and dry. Fruits flavours reflect the nose with yellow fleshed stone fruits, some apple and grapefruit. Lovely wine on the palate - a Chardonnay lovers paradise. Still developing so no rush to drink till mid, even end of, 2021 and through 2025." 31/05/20 Cameron Douglas MS
4.5 Stars "The very ageworthy 2019 vintage (4.5*) is a single-vineyard wine, grown at Taylors Pass, in the Southern Valleys. Hand-picked, it was fermented with indigenous yeasts in French oak barriques and puncheons (30 per cent new). Bright, light lemon/green, it has a fragrant, youthful, complex, slightly smoky bouquet. Weighty, with generous, grapefruit-like flavours, a subtle seasoning of oak, excellent complexity, balanced acidity and a tight-knit finish, it should be at its best 2022+." Michael Cooper, Michael Cooper's Buyer's Guide 2021.
$52.39AUD
Price based on case of any 12 wines, all-inclusive of freight, taxes, duty and insurance from NZ Producer to your door in Australia. All prices based on live exchange rate.
back to top