Blank Canvas
Anthem, Central Otago Pinot Noir 2018 750ml
New Release
Blank Canvas Anthem, Central Otago Pinot Noir 2018 750ml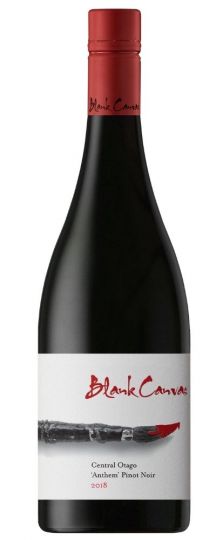 Anthem Vineyard | Gibbston Valley | Central Otago
Matt and Sophie both grew up in the enlivening surroundings of Central Otago. With this formative connection we dreamed early on of finding a special vineyard to venerate Central Otago Pinot Noir. We found it in the Anthem vineyard, cradled in the Gibbston Valley.
It was a particularly special year for this traditionally cooler sub-region and the result is a sublime red cherry, raspberry and violet expression of Pinot Noir, chaperoned by a suite of savoury, sappy undertones. Wild fermentation, 50% whole-cluster inclusion and a low-toast oak regime gives elegance, complexity and structure to the wine. Maintaining our minimalist philosophy, we bottle without filtration which means nothing is taken away though a natural deposit will occur over time.
ACCOLADES
95 Points - Outstanding. "Ripe, intense, richly scented, varietal and fruity bouquet with aromas of ripe dark cherries and plums. There's a definitive dried herb, savoury complexity - classic Otago message - then aromas of smoky oak with a quiet clove baking spice suggestion. All the action for this wine is on the palate - it's delicious with a detailed story of spices and fruits, textures and length, concentration and a sense of place. Tannins are fine and polished, oak has a nut-like quality alongside the toast-wood. The core of fruit finishes with a floral note - a flick forming part of a lengthy youthful finish. Fabulous drinking now and through 2026+. Definitely a wine of discussion." Cameron Douglas MS 22/08/2020
94 Points "Elegant, supple pinot noir with floral, dark cherry, five spice and grape stem flavours. A surprisingly approachable wine with restrained power. It should develop well." Bob Campbell MW 26/8/2020
92 Points - Outstanding "Top 10 + second highest score in report for NZ) "A moderately high-toned nose reflects the whole clusters with its intensely floral characters along with spice hints on the cool red berry fruit scents. There is good vibrancy and delineated medium-bodied flavors that possess fine depth and length on the balanced finish that is supported by bright but not drying acidity. Lovely and solidly age worthy. 92/2026+" Allen Meadows (Burghound)
$67.41AUD
Price based on case of any 15 wines, all-inclusive of freight, taxes, duty and insurance from NZ Producer to your door in Australia. All prices based on live exchange rate.
back to top