Esses
Couer de Cuvée Blanc de Blanc Sparkling 2015 750ml
Esses Couer de Cuvée Blanc de Blanc Sparkling 2015 750ml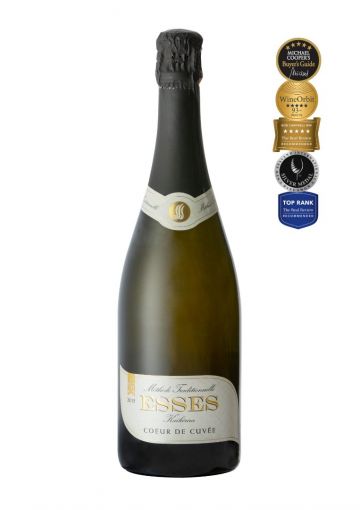 This Blanc de Blanc was gently pressed by hand in a traditional wooden basket press, releasing only the premium, free run juice. This Cuvée is simply the grapes bursting and the pure juice flowing out. This is a limited, small batch release.
Coeur de Cuvée means 'The heart of the free run juice'.
This is a 2015 vintage that has been aged for nearly 45 months on lees creating depth and complexity of flavours with delicate effervescence. The palate is full and round with rich broiche characteristics coming through. It is soft and delicate in body creating a luxurious mouthfeel.
Only 1,416 bottles were released of this vintage. Each bottle is individually numbered.
"This is wonderfully complex and sophisticated with baked apple, apricot, brioche and seductive yeasty aromas, leading to a concentrated palate delivering terrific richness combined with flowing texture and beautifully pitched acidity. Super long on the finish with layers of delectable flavours."
Sam Kim Wine Orbit
"It smelled immediately of apple crumble, almond biscuits and vanilla brioche which carried onto the palate alongside fresh ripe red and green apples and light lemon tart. The mousse was perfection. I was in a celebratory mood!"
-Libby Zietsman-Brodie, Wine Curater and Consultant, Bacchus & Brodie, London
"Light to medium straw-yellow colour, with a sweetly poached peach, straw and toast bouquet, popcorn and peanut brittle later. The palate is full and round, rich and ample, with a generous volume of flavour, not so much fruity as mellow and reflecting maturation on its lees."
Huon Hooke, Master of Wine, Australia
Rated:
95/100 Sam Kim, Wine Orbit
94/100 Bob Campbell Master of Wine New Zealand
Esses is a family owned and operated, sustainable certified vineyard.
$67.84AUD
Price based on case of any 15x 750ml bottles, all-inclusive of freight, taxes, duty and insurance from NZ Producer to your door in Australia. All prices based on live exchange rate.
back to top