Esses
Pia Sparkling 2019 750ml
New Release
Esses Pia Sparkling 2019 750ml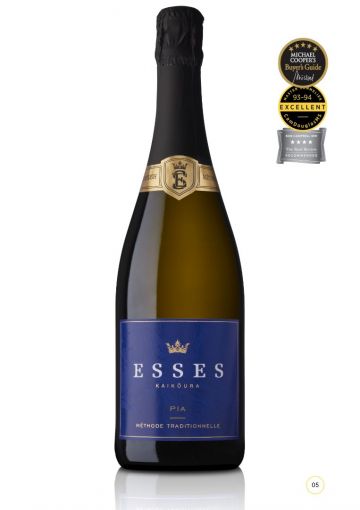 "Classy and Distinctive"
Pia is a combination of the 2017 earthquake vintage and the 2018 vintage. The 2017 harvest was gently whole bunch pressed on the vineyard in a traditional wooden basket press. It was then transported 7 hours due to the roads closed from landslides, to the other side of Marlborough, and matured in the winery for nearly two years before being blended with our 2018 vintage and undergoing tirage.
Aromas: Pia has stunning lemon curd, zesty lemon tart aromas with a hint of floral honeysuckle notes and freshness of grapefruit. The secondary characteristics of pastry and baked apple pie coming through.
Palate: Crisp, dry palate with citrus and green apple and light minerality on end palate.
Dosage: 4g/l Time on Lees: 36 months
Bottles Released: 1,777
Grapes: 85% Chardonnay 15% Pinot Noir
Reviews:
The classy and distinctive, non-vintage wine (5*) currently on the market was harvested from mature Chardonnay and Pinot Noir vines at Kaikoura, and disgorged after three years of maturation on its yeast lees. Bright, light lemon/green, it is elegant and finely poised, with vigorous, citrusy, yeasty flavours, woven with fresh acidity, that float smoothly to a dry, very harmonious finish. - 5 Stars - Michael Cooper MW
Aromas of fresh red apple and citrus laced with a fine less autoylsis, youthful and complex. On the palate - vibrant and expressive with a powerful mousse explosion coating the palate suggesting flavours of apple and lemon, a fine brioche quality and light spice. A light to moderately weighted wine, very youthful with a saline acid line quality, lovely fruit expression, baked goods and lengthy finish. Great drinking from today with local seafood or oysters. - 93/100 Cameron Douglas MW
$55.60AUD
Price based on case of any 15x 750ml bottles, all-inclusive of freight, taxes, duty and insurance from NZ Producer to your door in Australia. All prices based on live exchange rate.
back to top