Esses
Seth Sparkling NV 750ml
New Release
Esses Seth Sparkling NV 750ml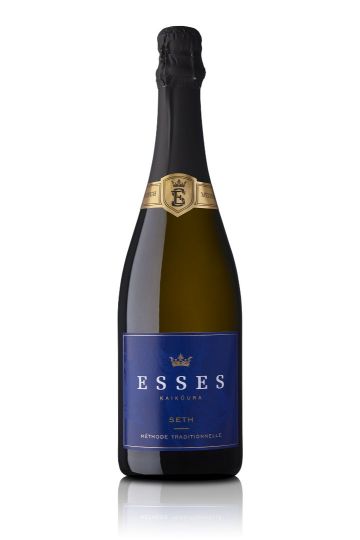 Overview:
This Méthode Traditionnelle is a true lovely lively sparkling. With its pale straw colour, captivating aromas of floral and citrus notes, a palate that balances fruit flavours and acidity, and a finish that combines mineral and coastal elements, it offers a complete and memorable tasting experience.
Time on lees: 4 years Dosage: 6g/l Number of Bottles: 1659
This Méthode Traditionnelle graces the glass as fine bubbles rise in a dance of celebration. The bubbles are elegant, lending a vivacious and energetic quality to the wine. Like shooting stars, they dazzle and dance, enhancing the visual and sensory experience.
Aroma:
Floral notes take centre stage, with delicate hints of jasmine and chamomile tea infusing the air. A touch of lemongrass adds a lively citrus zest, while the essence of lime zest dances playfully, evoking a sense of freshness. Subtle wafts of pastry biscuit and lime curd intertwine, adding a layer of decadence to the aromatic experience.
Palate:
The first sip reveals a delightful combination of flavours that mirror the aromatic journey. The floral character continues to enchant, with honeysuckle blossoms that intermingles with the other notes. The crispness of red apple adds a freshness, while the zesty grapefruit pith provides a pleasant acidity. Together, they create a vibrant medley of flavours that invigorates the senses.
Finish:
A hint of flint adds a mineral character that adds depth and complexity. The subtle salinity and gentle sea breeze evoke a coastal serenity. These elements contribute to a refreshing and lingering finish that leaves a lasting impression on the palate.
Grapes: 85% Chardonnay, 15% Pinot Noir
Residual Sugar: 5.77g/L
Total Acidity: 6.2g/L
pH: 3.50
Alcohol: 12.0%
Other: Vegan Friendly, Low Sulphite
$52.85AUD
Price based on case of any 15x 750ml bottles, all-inclusive of freight, taxes, duty and insurance from NZ Producer to your door in Australia. All prices based on live exchange rate.
back to top