Esses
Dame Syme Sparkling 2018 750ml
New Release
Esses Dame Syme Sparkling 2018 750ml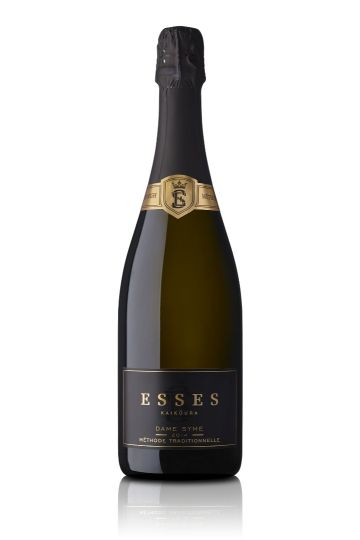 Overview:
Immerse yourself in the lap of luxury as you savour the 2014 Aged Limited Release Vintage Méthode Traditionnelle. From its captivating pale gold colour to its enticing aromas of earthiness, mushroom, proving bread dough, nuttiness, and glimpses of pistachio shell, every sip offers an invitation to indulge. The palate showcases a symphony of honeydew melon, white peach, lemon zest, creaminess, and hints of gooey cheese, creating a decadent and unforgettable tasting experience. The fine bubble effervescence further enhances the wine's elegance, while the extended aging on lees guarantees a level of sophistication and complexity that is truly unparalleled. Prepare to be enchanted by this limited release, which exemplifies the pinnacle of luxury in Méthode Traditionnelle production.
Appearance:
In the glass, this aged Vintage Méthode Traditionnelle entices with its pale gold hue. The fine bubble structure of creates a caress of effervescence on your tongue, dancing with elegance and grace. The gentle bubbles elevate the sensory experience, adding a touch of opulence and enhancing the wine's luxurious texture.
Nose:
Earthy nuances create a sense of grounded elegance, while the scent of mushrooms adds an intriguing complexity. The alluring fragrance of proving bread dough entices, hinting at the wine's maturation and development. Notes of nuttiness weave through the air, leading you to glimpses of pistachio shells that lend an air of intrigue and indulgence.
Palate:
Succulent honeydew melon and white peach take centre stage, enveloping your taste buds. The zesty essence of lemon zest adds a vibrant citrus burst, bringing a refreshing brightness. Creaminess coats the tongue, creating a velvety texture that delights with every sip. Hints of gooey cheese lend a rich and decadent character, while a delicate touch of salinity adds a tantalizing contrast to the overall experience.
Elevating its exclusivity, this wine has been aged for an impressive 8 years on lees, a testament to the dedication and craftsmanship involved. With fewer than 600 bottles released, it epitomizes rarity and distinction, ensuring a truly unique and sought-after experience.
$86.44AUD
Price based on case of any 15x 750ml bottles, all-inclusive of freight, taxes, duty and insurance from NZ Producer to your door in Australia. All prices based on live exchange rate.
back to top