Neudorf
Rosie's Block Moutere Dry Riesling 2021 750ml
Neudorf Rosie's Block Moutere Dry Riesling 2021 750ml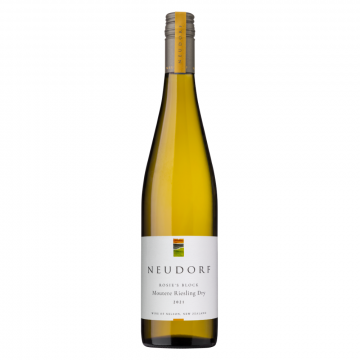 Organically Certified BioGro 5438 | Moutere Clay Gravels | Single Vineyard | Low Cropping | Hand Harvested | Wild Ferment (15% Neutral Barrel) | Unfined | Vegan | Solar Powered Winery | Lightweight Glass Bottle
Riesling is on a roll. The grape is getting lot of love from actual wine drinkers not just winemakers, wine sellers and writers. Heavens to Betsy this is a wonderful thing because it is a joyous grape and it keeps forever and it loves all that healthy, delicious seafood New Zealand harvests (sustainably, we hope).
So to our Riesling – Neudorf Rosie's Block Moutere Riesling Dry 2021. This wine is beautifully entwined from the very start.
On the nose and rolling into the palate ruby grapefruit, lemon grass and bouquets of green and white florals. This racy, crisp, intelligent wine is tightly bound with a core of minerality and refreshing acidity.
There is an elegant juiciness to this Riesling that is simply begging for kingfish sashimi, lemon tart or 5's to roll around on a hot summer's afternoon.
$41.51AUD
Price based on case of any 15x 750ml bottles, all-inclusive of freight, taxes, duty and insurance from NZ Producer to your door in Australia. All prices based on live exchange rate.
back to top