Neudorf
Home Block Moutere Pinot Noir 2021 750ml
Neudorf Home Block Moutere Pinot Noir 2021 750ml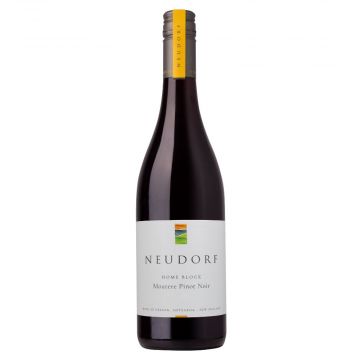 Organically Certified BioGro 56438 | Moutere Clay Gravels | Dry Farmed | Low Cropping | Single Vineyard | Hand Harvested | Wild Ferment | Natural Spring Malo | Barrel Matured | Unfined | Unfiltered | Vegan | Lightweight Glass Bottle
Our loveable rebel.
2021 will go down in the history books for its cold flowering week, resulting in a low cropping yield and extremely concentrated vintage - this wine celebrates those elements.
A deep and brooding Pinot.
The palate and aromas are beautifully intertwined - dark cocoa nibs, freshly roasted coffee beans, black cranberries and ripe cherries with a hint of pink peppercorns and campfire smoke. these elements come together in a brilliantly bold Pinot, atypical of Nelson.
fine tannins frame this wine as it moves through the palate. This chalky note keeps the rather voluptuous flavour profile in check and gives the wine an elegant mouthfeel.
This deserves a great cut of meat thrown on a seriously hot BBQ. Open a couple of hours early or decant to enjoy at its best.
Cellar with absolute confidence.
$83.75AUD
Price based on case of any 15x 750ml bottles, all-inclusive of freight, taxes, duty and insurance from NZ Producer to your door in Australia. All prices based on live exchange rate.
back to top