Thomas
Blanc de Gris Sparkling NV 750ml
New Release
Thomas Blanc de Gris Sparkling NV 750ml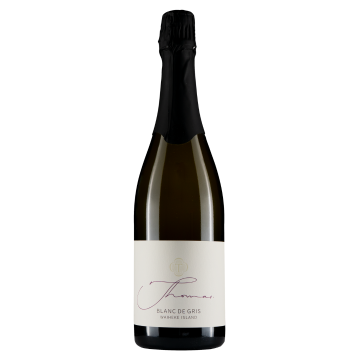 93 points Sam Kim Wine Orbit
The NV Blanc de Gris from Thomas Estate Vineyard is a delightful sparkling wine crafted from a blend of Pinot Gris and Flora grapes. This off-dry style sparkler hails from the picturesque Waiheke Island, capturing the essence of its terroir.
In the glass, it shines with a pale gold hue, accompanied by a stream of fine, lively bubbles that dance with elegance. The nose is immediately greeted by vibrant aromas, led by Nashi pear, William's pear, and golden delicious apple. These fruity notes are beautifully complemented by a touch of honey and gentle baking spices, adding layers of complexity to the bouquet. On the palate, this sparkling wine reveals its bright and fruit-driven character. The flavors of the aforementioned pear varieties and apple take center stage, offering a refreshing and invigorating taste experience. As the wine lingers on the tongue, a soft mousse gently caresses the palate, while the finish remains crisp and juicy, leaving a mouthwatering sensation.
Blanc de Gris is a testament to the winemaking prowess of the estate. The meticulous blending of three vintages, with 90% cool fermentation to retain the wine's aromatic and fruity qualities, has resulted in a sparkling wine of exceptional complexity. Additionally, the inclusion of a 2017 field blend methode base, disgorged and blended into the base wine, further enhances its depth and character.
With a limited production of 3105 bottles, each sip of this non-vintage (NV) sparkler is a true treasure. Its versatile off-dry style and captivating flavors make it a perfect companion for celebrations or as an aperitif. This wine can be enjoyed now and promises to bring delight to your palate.
The NV Blanc de Gris from Thomas Estate Vineyard is an exquisite expression of Waiheke Island's sparkling wine craftsmanship. Its radiant personality and harmonious balance are a testament to the dedication and skill of the winemaker.
$62.30AUD
Price based on case of any 15x 750ml bottles, all-inclusive of freight, taxes, duty and insurance from NZ Producer to your door in Australia. All prices based on live exchange rate.
back to top