---
Welcome to Wine Collective Direct, an online wine marketplace offering
commerce and hassle-free international delivery.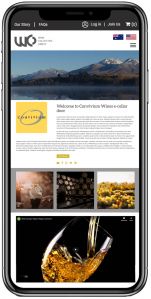 Our team oversees the entire shipping process of your customers New Zealand wine purchase, right to their door.
Current sales & shipping destinations: Australia, Hong Kong, Singapore, Japan.
Coming 2022: United States of America & United Kingdom!

---
Set up your
e-cellar door storefront

---
Set your wine pricing

---
Promote your wine and
e-cellar door

---
Fulfil sales
to our
warehouse

---
Sale proceeds deposited into your account
Repeat steps 3 - 5!
Keep your hard-earned revenue
This is not traditional export & distribution. As a DTC marketplace, you won't share profits with a third party.
Help when you need it
We're a small, committed team who love what we do. Reach out to us anytime with any questions – from set up to shipping.
Get started today with our Platform Membership
✓ International friendly e-commerce enabled storefront

✓ Total content management: share your brand, and tell your story

✓ Control your revenue – set your net proceeds value & case discounts

✓ All sales are made domestically in New Zealand. Funds are deposited into your designated NZ account

✓ Australian, Hong Kong, Singapore and Japanese consumers can buy directly from you...more to come!

✓ Low risk - you can cancel anytime
Platform Membership Fees
$19.95 (incl. GST) per month
Monthly platform fee

6.92% transaction fee
When you sell wine, this covers payment processing fees, consumer service & delivery support
---

"Wine Collective Directs promise of a low-risk e-commerce solution to reach a vast global consumer audience presents an attractive proposition to support us in achieving more profitable sales outcomes."

-Steve Bird, Owner. Steve Bird Wines

"WCD will enable us to continue to grow our own direct to International consumer sales and increase awareness for our already popular Wine Club … with the backing of the wider wine industry this unique marketplace will no doubt generate vast consumer appeal. "
-Alison, GM, Wet Jacket Wines

"We are delighted to read your press release regarding your new project. We think it's a great idea from all perspectives! We would certainly like to support your innovative vision and be part of your new Collective."

-Edel, Co-Owner, Johanneshof Cellars
back to top