---
Welcome to Wine Collective Direct, an online wine marketplace offering
commerce and hassle-free international delivery.



Start + Manage + Grow

Access the tools your winery
needs to sell online directly to international consumers, with
delivery to their door - all
in one place.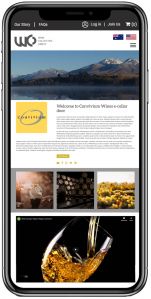 $19.95 (incl. GST) per month

Your brand will benefit from increased awareness and site-wide traffic from WCD's platform marketing to targeted
global markets.


Our team oversees the entire shipping process of your customers New Zealand wine purchase, right to their door
...leaving you more time to focus on making great wine and growing your business.

---
Set up your
e-cellar door storefront

---
Set your wine pricing

---
Promote your wine and
e-cellar door

---
Fulfil sales
to our
warehouse

---
Sale proceeds deposited into your account
Repeat steps 3 - 5!
Keep your hard-earned revenue
This is not traditional export & distribution. As a DTC marketplace, you won't share profits with a third party.
Growing your digital reach
Our Digital Success Programme is designed to increase your brand's awareness & reach. You've got the online store, now get the right buyers.
Exposure to qualified global market of consumers
WCD is investing in media spend to drive platform awareness, increasing global market reach and site-wide traffic.
Help when you need it
We're a small, committed team who love what we do. Reach out to us anytime with any questions – from set up to shipping.
Get started today with our Basic Platform Membership
✓ International friendly e-commerce enabled storefront

✓ Leverage WCD's targeted site-wide platform awareness campaigns

✓ E-Cellar Door SEO and product optimisation

✓ Total content management: share your brand, and tell your story

✓ Control your revenue – set your net proceeds value & case discounts

✓ All sales are made domestically in New Zealand. Funds are deposited into your designated NZ account

✓ Australian, Hong Kong, Singapore and Japanese consumers can buy directly from you...more to come!

✓ Low risk - you can cancel anytime
Also get access to the
Digital Success Programme
Increase your sales by driving the right international buyers directly to your wines.

We've launched an ongoing series of creative, collaborative digital marketing campaigns designed to be affordable and flexible for participating Producers.

✓ Collaborative, low-cost media buying
✓ Targeting based on over 100,000 transactional records
✓ Custom campaigns with targeted segmentation
✓ Layered campaigns across multiple digital channels
---
Platform Membership Fees

$19.95 (incl. GST) per month
Supports platform development and awareness across
digital channels to targeted global destinations


6.92% transaction fee
When you sell wine, this covers payment processing
fees, consumer service & delivery support
---
---

"Wine Collective Directs promise of a low-risk e-commerce solution to reach a vast global consumer audience presents an attractive proposition to support us in achieving more profitable sales outcomes."

-Steve Bird, Owner. Steve Bird Wines

"WCD will enable us to continue to grow our own direct to International consumer sales and increase awareness for our already popular Wine Club … with the backing of the wider wine industry this unique marketplace will no doubt generate vast consumer appeal. "
-Alison, GM, Wet Jacket Wines

"We are delighted to read your press release regarding your new project. We think it's a great idea from all perspectives! We would certainly like to support your innovative vision and be part of your new Collective."

-Edel, Co-Owner, Johanneshof Cellars
back to top