Neudorf
Tiritiri Chardonnay 2022 750ml
Neudorf Tiritiri Chardonnay 2022 750ml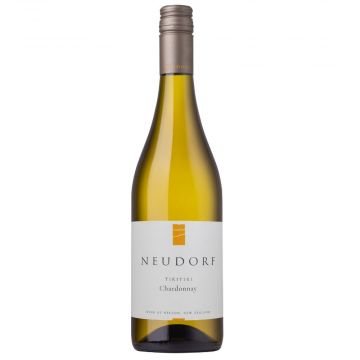 Moutere Clay Gravels | Low Cropping | Barrel Fermented | Unfined | Vegan | Lightweight Glass Bottle | Solar Powered Winery
Chardonnay offers the winemaker many choices. This is evident in our own portfolio of the classic, although contemporary, Moutere wines next to our exploration of amphora ageing. One thing is for sure - Chardonnay is a wonderful drink and Tiritiri embodies this.
Classic but not old fashioned. This morish chardonnay walks a tightrope of fruit, minerality, oak and acidity.
There's a beautiful purity to this wine, it offers a certain stillness.
Summer fruits are woven together with rockpool minerality. This Tiritiri Chardonnay truly impresses with its delicate integration of oak. The use of barriques frame the wine gently, without demanding attention.
There is beautiful shape to this wine, its voluminous without being overblown. What may be taken to be a rather broad palate on entry, tapers to a refreshing and modern finish.
Chardonnay in this form is destined for seafood. We say it a lot , but the truth is, wines like these speak of where they come from and with the abundance of Tasman Bay on our doorstep it is hard to imagine a gently chilled glass of Tiritiri Chardonnay without the "catch of the day" no matter where you are in the world.
However I can vouch for having it alone or with a chunk of parmesan... after all it's here to be enjoyed any way you choose.
$35.56AUD
Price based on case of any 15x 750ml bottles, all-inclusive of freight, taxes, duty and insurance from NZ Producer to your door in Australia. All prices based on live exchange rate.
back to top