Maori Point
Estate Pinot Noir 2016 750ml
Maori Point Estate Pinot Noir 2016 750ml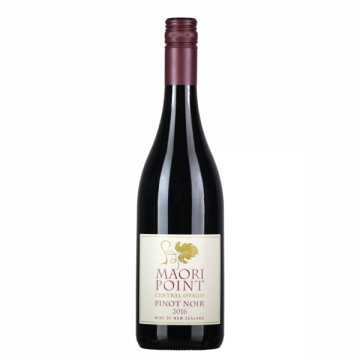 GROWING SEASON
Early spring frosts damaged some vines and cool temperatures affected flowering, thus reducing crop levels. Yet after the cold start, the summer was dry and warm. Late summer sugar accumulation was gradual, and grapes were small and concentrated. Harvest occurred April 13th to 26th.
VINEYARD AND WINERY PRACTICES
We believe wine should express where and when it is grown and made. We follow organic principles then proceed further, nurturing the soil and indigenous microflora by making our own compost and planting native vegetation. Vine pruning, leaf pulling, straightening shoots, and harvesting are all by hand. Twelve to sixteen different areas of the vineyard are harvested and fermented individually. Small fermentations by native yeasts, worked by hand and exposed to ambient temperatures, articulate different facets of vineyard and vintage, which we then follow through maturation in barrel. Malolactic fermentation occurs naturally during the eleven months the wine is in barrel (primarily French oak, 22% new). We rack once in summer, use minimal sulfites, and do not fine or filter. .
TASTING NOTES
The 2016 shows greater precision than the warm vintages of 2013 and 2014, and greater energy and delicacy than the 2015 vintage. The nose reveals cherries, blackcurrants, and spice. The palate adds savoury notes that elaborate the fruit and spice notes and add a hint of violets. The gentle velvety texture of Maori Point is already revealing itself, and the lacy acidity and supple tannins give this wine structure to age well for up to ten years after release. 13.9% alc. Vegan friendly.
$66.54AUD
Price based on case of any 15x 750ml bottles, all-inclusive of freight, taxes, duty and insurance from NZ Producer to your door in Australia. All prices based on live exchange rate.
back to top