Maori Point
Estate Pinot Noir 2015 750ml
Maori Point Estate Pinot Noir 2015 750ml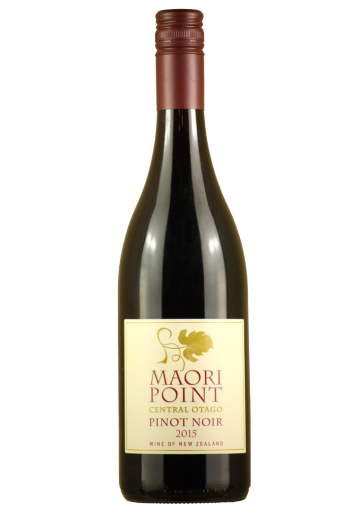 GROWING SEASON
Early spring frosts damaged some vines and cool temperatures affected flowering, thus reducing crop levels. Yet after the cold start, the summer was dry and warm. Late summer sugar accumulation was gradual, and grapes were small with thicker than usual skins, which accentuate both concentration and tannins. Autumn started dry and calm but mid-April rains forced us to delay picking some blocks until the end of the month. Harvest occurred April 12th to 30th.
VINEYARD AND WINERY PRACTICES
We believe wine should express where and when it is grown and made. We follow organic principles then proceed further, nurturing the soil and indigenous microflora by making our own compost and planting native vegetation. Vine pruning, leaf pulling, straightening shoots, and harvesting are all by hand. Twelve different areas of the vineyard are harvested and fermented individually. Small fermentations by native yeasts, worked by hand and exposed to ambient temperatures, articulate different facets of vineyard and vintage, which we then follow through maturation in barrel. Malolactic fermentation occurs naturally during the eleven months the wine is in barrel (primarily French oak, 22% new). We rack once in summer, use minimal sulfites, and do not fine or filter. .
TASTING NOTES
The 2015 shows greater concentration and focus than the similarly warm vintages of 2013 and 2014. The nose reveals raspberries, cherries, florals, and savoury hints. The palate adds spice and sous bois (forest floor). With lacy acidity and supple tannins it is structured yet gentle, and we expect it will age well for ten years after release. Our favorite pairing for this Pinot Noir is pan-seared salmon with crisped skin and kumara chips. 13.9% alc. Vegan friendly.
$72.02AUD
Price based on case of any 15x 750ml bottles, all-inclusive of freight, taxes, duty and insurance from NZ Producer to your door in Australia. All prices based on live exchange rate.
back to top