Maori Point
Grand Reserve - Magnum Pinot Noir 2018 1.5l
Maori Point Grand Reserve - Magnum Pinot Noir 2018 1.5l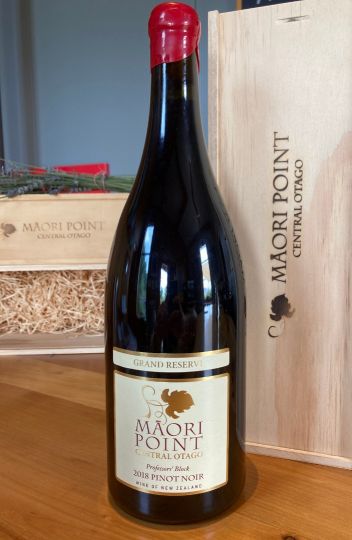 We are releasing a very limited number of magnums of 2018 Māori Point Grand Reserve - Professors' Block Pinot Noir. This wine is only the third Māori Point Reserve Pinot Noir to be labeled as "Professors' Block." We made only 20 magnum bottles of the 2018 vintage, all sealed with a cork, labeled, dipped in wax to protect the cork, then numbered and signed, all by hand. Each magnum bottle comes with a Māori Point wood box (made in Otago) to protect the wine (unfortunately, we cannot send the wooden box out of NZ, sorry). Our Reserve Pinot Noir is hand harvested from our favorite section of Māori Point Vineyard. We have been observing this special area and tasting the wines made specifically from it since 2013, and we now call this area our "Professors' Block". This one-acre block of vines was planted in 2002 with the Pinot Noir types Abel and 10/5, and it consistently creates our most elegant, layered, and long-lived Pinot Noir.
GROWING SEASON The 2018 growing season in Central Otago was notable for an unusually warm and dry spring. The warm temperatures persisted through January, but then February brought cooler weather and higher than average rainfall. Despite a few warm days, the generally cool temperatures extended through into harvest. Nonetheless, the early season heat accumulation and accelerated ripening provided for good fruit set and crop levels. Harvest occurred approximately two weeks earlier than usual, on April 4th and 5th.
TASTING NOTES The warm spring then cooler autumn creates a softness and balance that echoes the 2015 vintage. The nose reveals dark cherry, red currants, caramel, and anise. The palate adds in roasted notes, savoury detail, and sous bois. With freshening acidity and well-formed tannins it is structured and deeply textural, yet still gentle and supple. Lifted, layered, and ethereal, the silky tannins and long finish indicate that this wine will age well for at least twelve years.
Made by wild yeasts, unfined, unfiltered, vegan friendly, minimal sulfites. 14.3% alc. by volume.
**If this is a gift, we can add a note to the box, please add the note during the checkout process, or email us at info@maoripoint.co.nz**
$186.17AUD
Price based on case of any 15x 750ml bottles, all-inclusive of freight, taxes, duty and insurance from NZ Producer to your door in Australia. All prices based on live exchange rate.
back to top