Maori Point
Reserve Pinot Noir 2019 750ml
Maori Point Reserve Pinot Noir 2019 750ml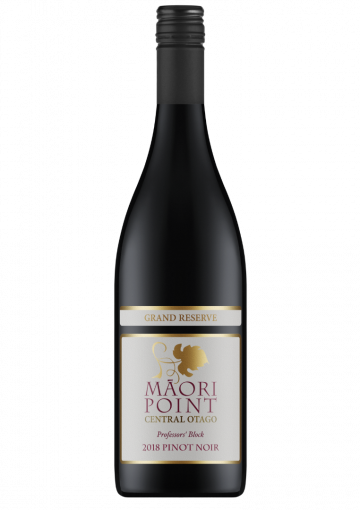 In 2014, after eight years of careful observation and winemaking, we designated the Professors' Block, a single acre of Abel and 10/5 clones that creates our Grand Reserve: our most elegant, layered, and long-lived wine.
PRACTICES
We follow organic principles and then proceed further, nurturing the soil and indigenous microflora by making our own compost and planting native vegetation. Vine pruning, leaf pulling, straightening shoots, and harvesting are all done by hand. We provide special attention to the Professors' Block, and at harvest time this acre is harvested and fermented individually, in our winery adjacent to the vines. The fermentation by native yeasts, worked by hand and exposed to ambient temperatures, allows true expression of vineyard and vintage. Malolactic fermentation occurs naturally during the twenty two months the wine is in barrel (primarily French oak, up to 50% new). We rack once in summer, use minimal sulfites, and do not fine or filter. Our wines are vegan friendly.
GROWING SEASON
The 2019 growing season was one of two halves: a tumultuous spring brought very hot days but also extreme frosts and even deep snow on the vines in November. To our relief, the weather settled into a gentle, moist December and a hot dry summer lasting right through until the end of March. The crop was smaller than usual because of rain during flowering.
TASTING NOTES
The tumultuous spring then calm late summer of 2019 melded with the classically challenging Central Otago terroir of Māori Point Vineyard to create a beautifully poised Pinot Noir, displaying layered fullness of flavour and soft silkiness on the palate. It is generous with ripe cherry, blackberry, raspberry, interwoven with cinnamon, chocolate, sous bois, and dark herb notes. Supple tannins provide an ethereal, silky mouthfeel, supported by elegant acidity, providing lightness yet structure and definition to the palate. Lifted and layered, with a long finish that indicates this wine will age well for 11 to 14 years.
$88.80AUD
Price based on case of any 15x 750ml bottles, all-inclusive of freight, taxes, duty and insurance from NZ Producer to your door in Australia. All prices based on live exchange rate.
back to top