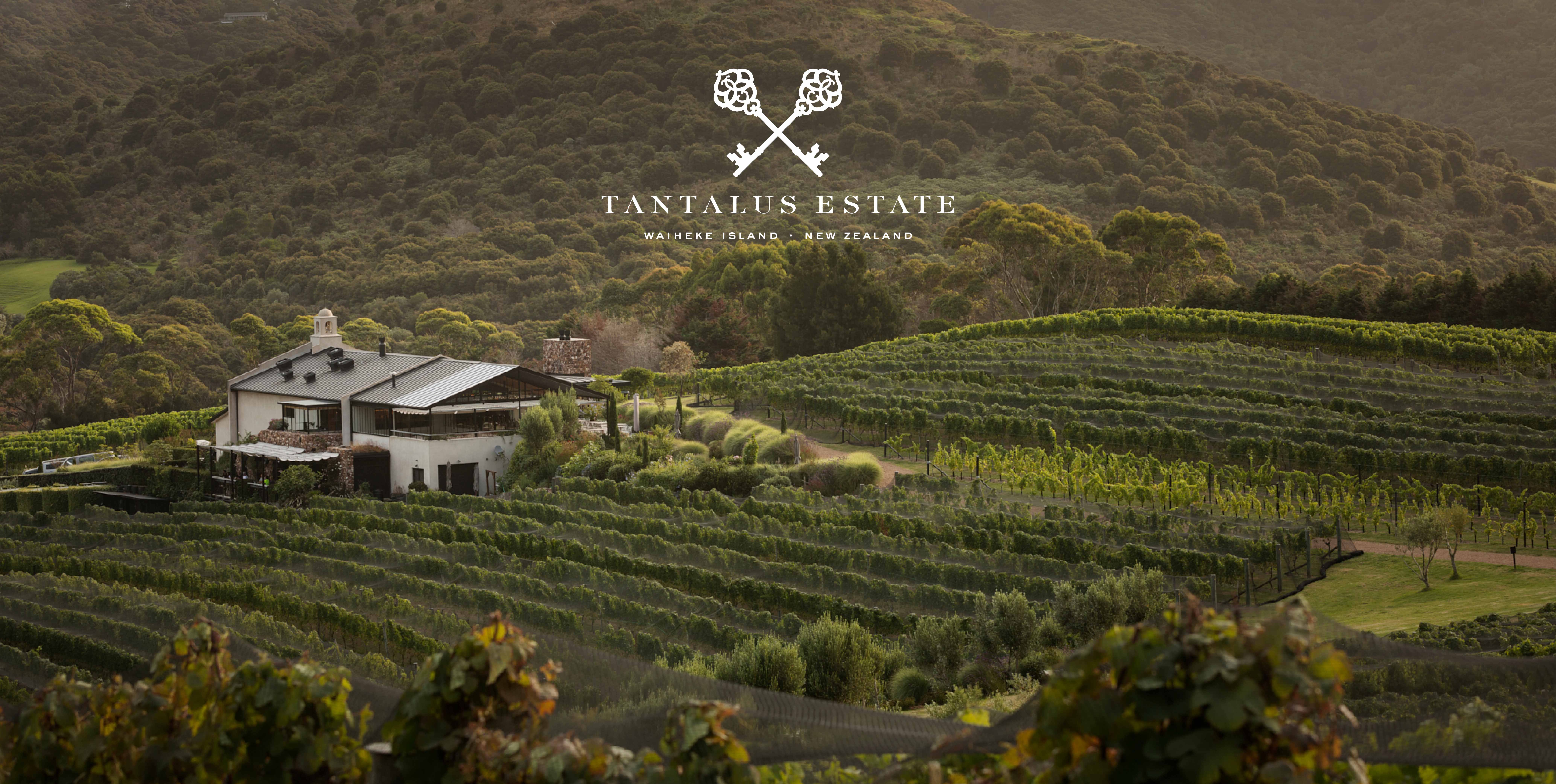 Welcome to TANTALUS ESTATE Wines.
From the heart of Onetangi Valley, Waiheke Island.
For many wine enthusiasts, the taste of Tantalus Estate Wines was first experienced at our award-winning Restaurant and Cellar Door on beautiful Waiheke Island, Auckland.

Wherever you tried your first sip, we are excited to facilitate your next one through our online e-Cellar. Re-live your treasured memories by ordering a taste of Tantalus Estate from our home to yours.
Winemaker Alex Perez combines traditional winemaking techniques with state-of-the-art innovation. Handpciked, basket pressed, unfined, and using indigenous and selected yeasts, our excluisve wines are boutique, refined, and a true reflection of the vintage and the terrior. We lovingly craft each wine with a focus on elegance, subtlety and our unique expression of Rhoné and Bordeaux styles.

Tantalus Estate is proud to be named one of the Top 100 Wineries of New Zealand for the last seven years by The Real Review (2016-2022).
Bob Campbell MW / Real Review
"...producing a range of very stylish Reserve red wines and a top chardonnay from the very first vintage. The quality level has remained high..."
The Reserve range of Tantalus Estate showcases our flagship wines. The naming of each one has its origin in the concept of the Tantalus, something beautiful that is hidden, yet in plain sight.
An Écluse allows boats to pass through bodies of water at different levels. Unlock our "Écluse" and let your glass take you on the most amazing journey.
To évoque is to evoke forgotten memories, or to elicit fragments of a memory, perhaps even a deja-vu. Put your nose in a glass of our "Évoque" and it will surely bring to mind one of your most pleasureable experiences.
To be voilé is to have used a thin piece of material to cover yourself, effectively becoming hidden from view. Unveil our "Voilé" and it will reveal a moment as unique and memorable as a happy wedding day.
A cachette is a hiding place and a reference to the joys of playing hide and seek as a child. Seek out your friend to enjoy a glass of our "Cachette" together.
Reviews
Voilé Syrah 2016

"Gorgeously fruited and savoury at the same time, showing dark berry, tapenade, cured meat, cedar and toasted spice aromas on the nose, leading to a generously weighted palate offering ripe fruit intensity together with silky texture and fine-grained tannins. Elegantly styled with multi-layered mouthfeel. At best now to 2023".
Sam Kim, Wine Orbit
Cachette Chardonnay 2019

A rich and perfumed bouquet with aromas of ripe stone fruits and citrus peel, there are scents of sweet oak and fine toasty barrel spices, raw cashew nut butter then a fine stony earthy quality. Full-bodied and equally rich and highly scented on the palate. There's no mistaking oak carried easily by the roastes stone fruit and baked apple flavours, moments of citrus then smoke and new barrel spices. Fine wood tannins and medium acidity bring texture and length. A well made wine with a core of power and richness with best drinking upon release and through 2027+".

Cameron Douglas, MS
Écluse Cabernets/Merlot/Malbec 2016

"Immensely complex and luxurious with dark fruit richness, tar, leather, spicy oak and subtle tobacco aromas, it's sophisticated and powerful at the same time with gorgeously layered texture combines with firm tannins, making it sturdy and imposing. At its best now to 2034".

Sam Kim, Wine Orbit (June 2021)

back to top