Esses
Reconnection Chardonnay 2018 750ml
New Release
Esses Reconnection Chardonnay 2018 750ml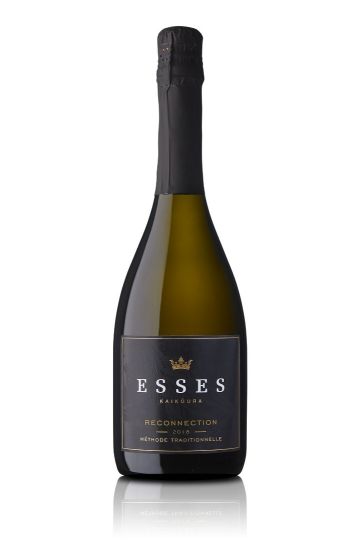 Overall:
With its inviting aromas of butter, toasted rosemary, almond, and lemon zest, a palate that offers buttery croissant, hints of apple and pear, and a finish enriched with flint and ginger spice, it provides a luxurious and memorable tasting experience. The effervescence adds a touch of liveliness, further enhancing the wine's charm.
Time on lees: 42 months Dosage: 8g/l Number of Bottles: 1496
Appearance:
This single vintage Méthode Traditionnelle showcases a straw color that hints at its elegance and maturity. hinting at the wine's maturity and elegance. The effervescence of this Méthode Traditionnelle is vibrant and energetic and contribute to the wine's overall structure and enhance the sensory journey.
Aroma:
The nose offers a delightful array of aromas that intrigue the senses. Butteriness immediately captivates, accompanied by enticing notes of toasted rosemary, almond, and lemon zest. A waft of freshly baked pie pastry adds a comforting and indulgent touch to the aromatic profile.
Palate:
On the palate, this wine unfolds with a rich and luxurious character. The buttery warmth of a freshly baked croissant takes centre stage, enveloping the taste buds with its sumptuousness. Hints of tart Granny Smith apple and ripe pear dimension, contributing a delicate balance to the overall flavour profile.
Finish:
The finish lingers with elegance and complexity. The palate is greeted by the lasting flinty notes, adding a mineral aspect that adds depth and intrigue. A subtle kick of ginger spice emerges, lending a warm and invigorating touch to the finish. These elements combine harmoniously, leaving a lasting impression on the senses.
Grapes: 90% Chardonnay 10 % Pinot Noir
Residual Sugar: 7.65 g/L
Total Acidity: 6.7g/L
pH: 3.47
Alcohol: 12.0%
Other: Vegan Friendly Low Sulphite
$62.26AUD
Price based on case of any 15x 750ml bottles, all-inclusive of freight, taxes, duty and insurance from NZ Producer to your door in Australia. All prices based on live exchange rate.
back to top