Hunter's
Late Harvest Riesling 2013 375ml
Hunter's Late Harvest Riesling 2013 375ml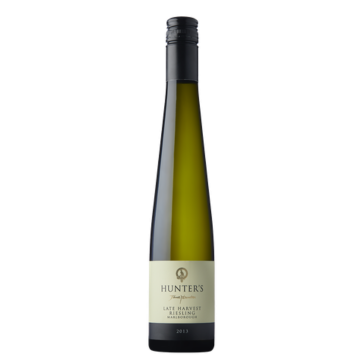 This wine has wonderful aromas of lime, orange and stone fruit on the nose. The luscious palate has concentrated honeyed/citrus/marmalade flavours with a long lingering finish.
VINTAGE CONDITIONS
Short and intense is the best way to describe the grape harvesting of 2013. The fine weather worked in our favour throughout the entire season, including during the critical flowering, ripening and harvest period. As the harvester moved from block to block there was no stopping, the weather was good; flavours were right and within a 3 week period all fruit was safely in the winery. Yields hit targets on all varieties rating the 2013 season up there with the best.
VINIFICATION
This late harvest Riesling was picked in the cool of the morning. The juice was handled anaerobically to retain the natural fruit character and then frozen in a tank to concentrate the juice. This was done by freezing the water out of the concentrate and pumped off leaving the ice. The concentrate was further concentrated until eventually the juice reached 39.5 brix. This was then fermented until the correct balance of alcohol/sugar/acid was achieved
$25.65AUD
Price based on case of any 15x 750ml bottles, all-inclusive of freight, taxes, duty and insurance from NZ Producer to your door in Australia. All prices based on live exchange rate.
back to top