Hunter's
MiruMiru Rose Sparkling NV 750ml
Hunter's MiruMiru Rose Sparkling NV 750ml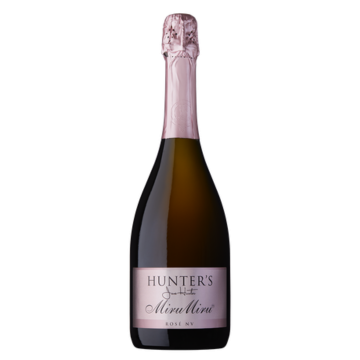 Jane Hunter loves pink bubbles, so the decision was made to create a MiruMiru™ Rose. Wonderfully blush pink colour. Aromas of subtle strawberry and raspberry with a touch of fresh brioche. The palate is refined with freshness and balanced acidity. Blended from Pinot Noir 49%, Chardonnay 36%, and Pinot Meunier 15%. This traditionally bottle fermented wine is stored on lees for 50 months.
The name MiruMiruTM translates to "bubbles" in Te Reo Maori.
VINTAGE CONDITIONS
Spring was dry to start the growing season and late frosts in early December threaten but did not impact and fruit set was great. Some rain during the growing season in January provided plenty of nutrients and juicy weight to the fruit. A hot and dry summer delivered a harvest as smooth as can be with continuous fruit supply keeping the winery busy. Overall, we received slightly above average yields with optimum quality fruit.
VINIFICATION
The grapes were picked at optimum fruit ripeness to ensure delicate fruit flavours and particular attention was placed on good acid sugar balance. The wine was treated in traditional methods, i.e. no sulphur so subtle oxidation (the reverse of methods for treating our table wines) yet one can still pick up the reasonably strong Marlborough fruit characters. The wine was fermented in stainless steel before undergoing a full malolactic fermentation. The Chardonnay, Pinot Noir and Pinot Meunier parcels were kept separate before blending just before tirage (the addition of sugar and yeast to start secondary fermentation). The wine is then aged on lees in bottle for a minimum of 18 months before disgorgement.
ACCOLADES
DOUBLE GOLD – The New Zealand International Wine Show 2022, October 2022
4.5 STARS – Ranked 5th, Cuisine Magazine, November 2022
SILVER – The Marlborough Wine Show, October 2022
GOLD – Aotearoa Regional Wine Competition, September 2022
$40.82AUD
Price based on case of any 15x 750ml bottles, all-inclusive of freight, taxes, duty and insurance from NZ Producer to your door in Australia. All prices based on live exchange rate.
back to top