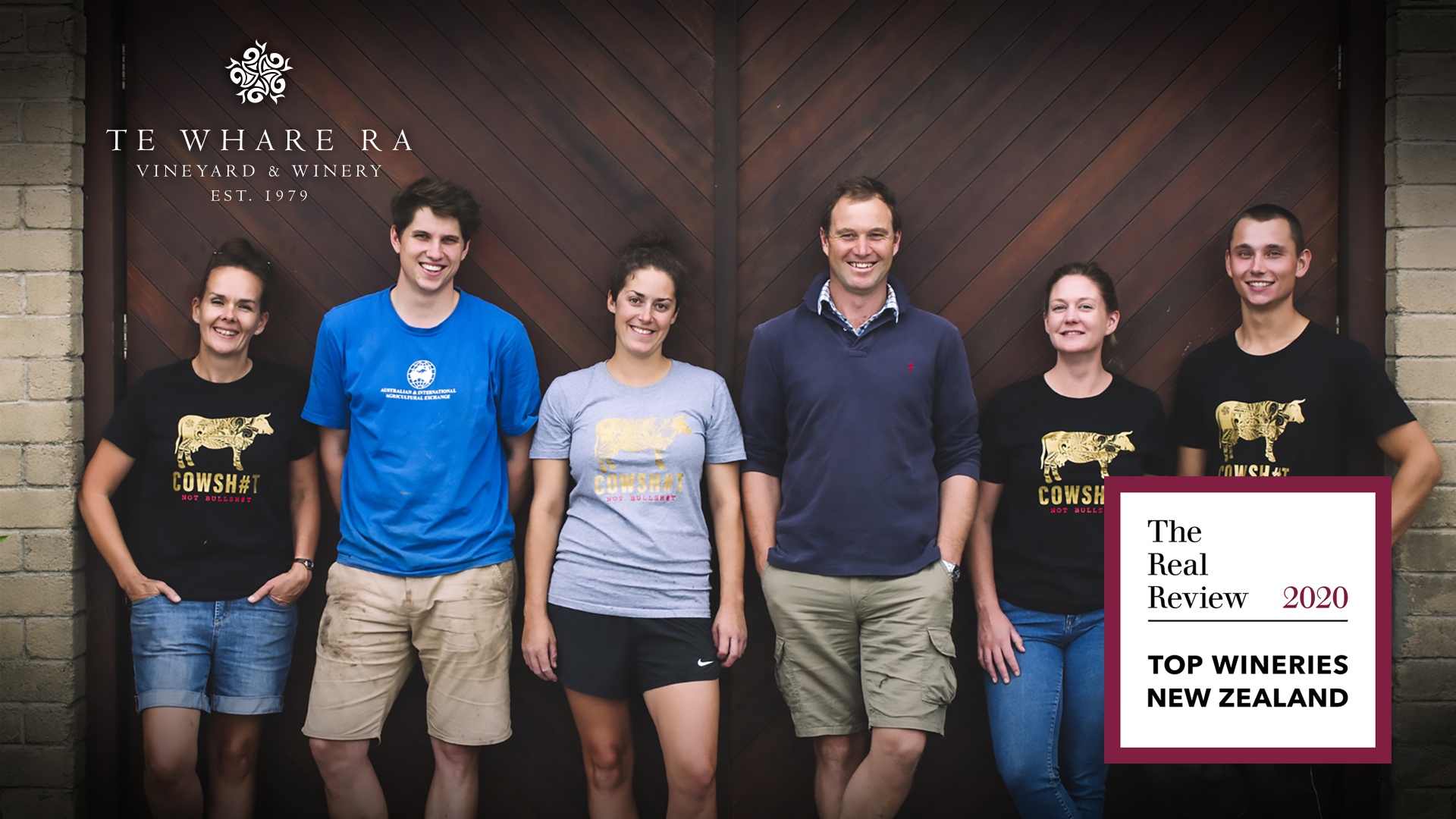 Welcome to Te Whare Ra Wines e-cellar door
Te Whare Ra (originally est. in 1979) is the oldest small winery in Marlborough and is owned and operated by winemakers Anna & Jason Flowerday. Both our vineyard and winery are certified organic (Biogro NZ) and our aim is to showcase the truly hand-made version of Marlborough, and wines that show the region at it's best. Our 11 Ha vineyard located in Renwick, is planted to 7 different varieties and is home to the oldest vines in the region.
We produce an outstanding array of aromatic white wines including Gewürztraminer, Riesling, Sauvignon Blanc, Pinot Gris, and an aromatic blend called Toru. We also make excellent Chardonnay and Syrah and some of the best Pinot Noirs in the region.
The Real Review - Top Wineries of NZ - 2021, 2020, 2018, 2019
NZ Winery of the Year 2014 - Raymond Chan
Gourmet Traveller Wine - NZ Viticulturist of the Year 2020 - Jason Flowerday
Fine Wines of NZ List 2020 - 2018 Toru, 2017 Riesling 'D'
We want to make wines with a "somewhere-ness rather than a same-ness". Our yields are kept very low and the home vineyard is managed with a combination of organic and biodynamic practices including the use of cover-crops, compost and grazing our cows in the vineyard in winter. Our vineyard here is hand-tended as much as possible as we feel that a person can treat each vine individually and coax the best from it - rather than a machine which does the exact same thing to each vine. It does mean more time and effort (and more $$) but we think it is more than worth it for the resultant quality of the wines. Our aim is to grow great quality fruit - fruit which is balanced in all its components, and which then requires minimal winemaking intervention or adjustments once we get it in the winery. This means a cropping level which is strictly controlled and so we do selective crop thinning at a number of key times during the growing season.
Our approach at Te Whare Ra is first and foremost to make great wines and to use a natural approach to the growing (and making) of those wines. We actually feel very comfortable that natural winegrowing is not strictly defined. It is more a way of doing things than a pure definition. We think it means different things to different people and can cover a wide range of practices and techniques. We make all our wines with minimal sulphites and the whole range is also suitable for vegans and vegetarians. From our perspective the making of quality, naturally produced wines involves many occasions when intervention is required to varying degrees.
We are a member of Organic Winegrowers New Zealand and also a founding member of MANA Winegrowers (a collective of family owned, organic producers in Marlborough).
Reviews
"Aromatic white wines and Te Whare Ra are synonymous with the phrase 'high quality'.
They just seem to nail it all the time.
Organic grown, made by legends"
Mike Bennie @ Wine Front
"Te Whare Ra and the Flowerdays represent the modern and young face of winegrowing in New Zealand, making a range of beautifully elegant, exceptionally high quality wines, with the greatest respect for the environment from which the fruit is obtained"
Raymond Chan
NZ Winery of the Year 2014
" Te Whare Ra have delivered a convincing trifecta of astutely tuned, and effortlessly drinkable Pinot Noirs"
2017 TWR Pinot Noir - 94 points
2015 SV5182 Pinot Noir - 97 points
2017 SV5096 Clayvin Pinot Noir - 97 points
Nick Stock
back to top