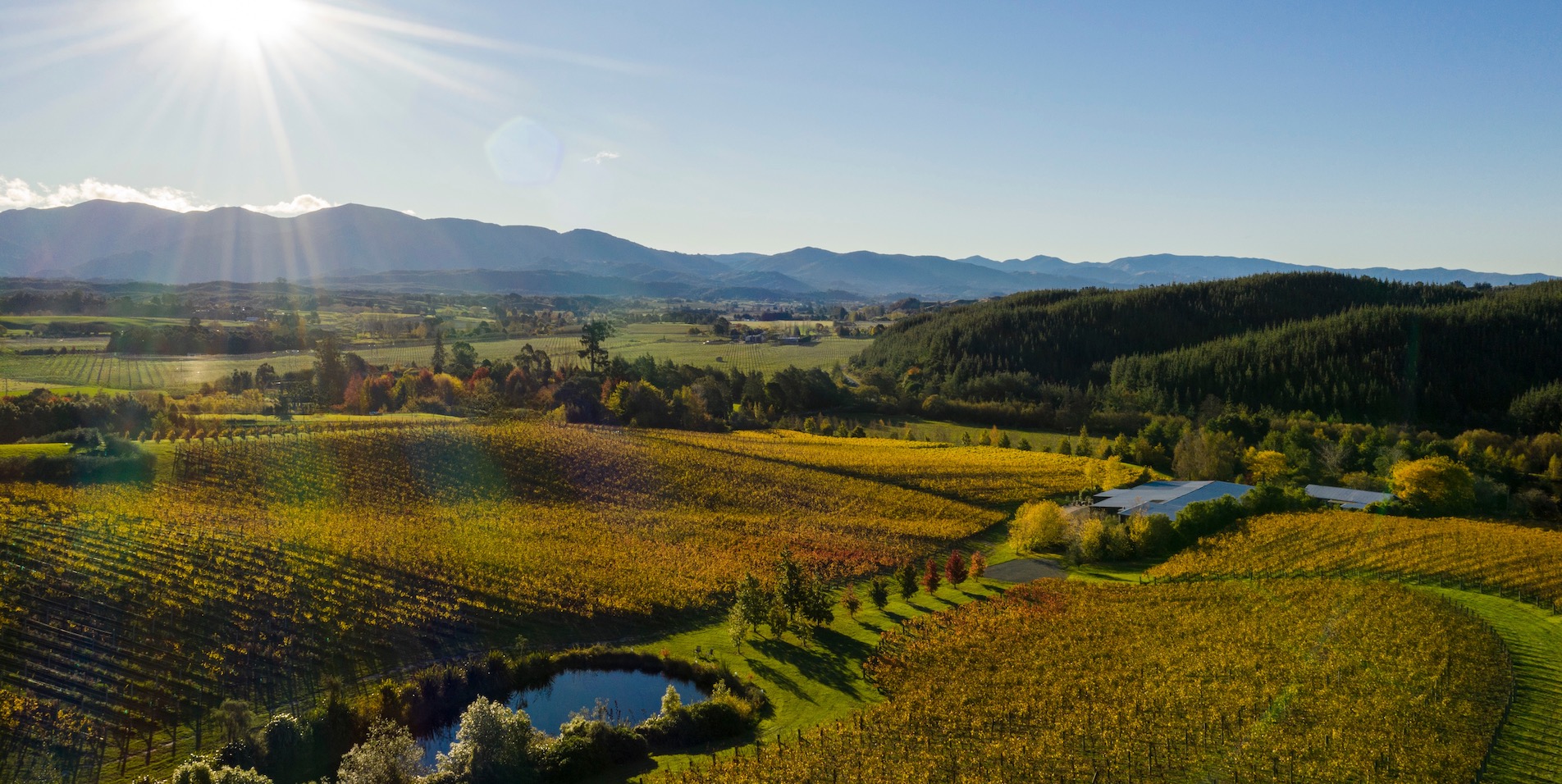 Welcome to Flaxmore Vineyards
Our single-vineyard wines are crafted from hand-picked vines on Flaxmore's north facing slopes in the Moutere hills near Nelson. The combination of clay-gravels, climate and attention to detail has resulted in fine, balanced wines which fully express the vineyard's special character: elegant fruit notes with some restraint on the palate that makes them outstanding wines to complement food - both casual and fine dining.
Our 9 hectare (22 acre) family-owned vineyard is where the focus of our winemaking lies. Deep-rooted, un-irrigated vines deliver complexity, texture and mineral/savoury notes reflecting our special terroir, while initial clone selection and fine-tuning the clonal blend optimises the uniqeness of each vintage.
We have concentrated on the three grape varieties which are perfectly suited to the Moutere hills : Pinot Noir, Chardonnay and Pinot Gris. We also make a pale, dry Rosé from selected parcels of the Pinot Noir. We're delighted that our wines have been highly awarded with great reviews by leading wine critics Bob Campbell, Michael Cooper and Cameron Douglas (see below)
From the vine to the bottle our wines are fully accredited by Sustainable Winegrowing New Zealand. Improving the land and local environment is also important to us – for both sustainability and natural beauty. We created an irrigation pond of just under 1 ha which is landscaped to attract a range of native & exotic birdlife. Over the last 10 years we've planted 5,000 trees and shrubs – a process that's ongoing.
Reviews
Flaxmore Moutere PINOT GRIS 2022 - Awarded 4.5 Stars by Michael Cooper
"The finely poised, vigorous 2022 vintage (4.5*) was estate-grown and hand-picked at Upper Moutere. Tank-fermented and lees-aged, it is an attractively scented, youthful wine, already drinking well, with excellent body and depth of peach, pear and spice flavours, that build to a long, basically dry (4 grams/litre of residual sugar) finish. Good value."
Flaxmore Moutere ROSÉ 2022 - Awarded 4.5 Stars by Michael Cooper
"The distinctive, well-priced 2022 vintage (4.5*) was made from Pinot Noir, estate-grown and hand-harvested at Upper Moutere. Tank-fermented and matured on its yeast lees, it is a pink/orange, full-bodied wine, with strong peach, strawberry and spice flavours, a hint of oranges, a distinct touch of complexity and a lengthy, dry finish."
Flaxmore Moutere PINOT NOIR 2019 - Awarded 4.5 Stars by Michael Cooper
"Estate-grown and hand-harvested in the Moutere hills, the generous 2019 vintage (4.5*) was matured for nine months in oak barrels (20 per cent new). Deep, bright ruby, it is full-bodied, savoury, fresh and youthful, with ripe cherry, plum and spice flavours, showing impressive complexity and depth, well-integrated oak and good tannin backbone. Offering fine value, it's likely to be at its best mid-2023+"
Flaxmore Moutere PINOT NOIR 2019 - Awarded 93 points / Excellent by Cameron Douglas
"Aromas of red cherry and wood smoke, mineral complexity and tart red berries. Youthful, ripe, varietal and fresh on the palate with flavours of red and dark cherry, some pomegranate and red apple. The minerality intensifies on the palate as do the flavours of oak from baking spice to toasty wood. A youthful wine still with firm tannins and back bone acidity firming the foundation. Contrasting fruits flavours emerge again for core flavour. Well made, still developing with complexity and length on the finish. Best drinking from 2023 through 2027+"
Flaxmore Moutere CHARDONNAY 2021 - Awarded 4.5 Stars by Michael Cooper
"Already highly enjoyable, the 2021 vintage (4.5*) was estate-grown and hand-harvested in the Moutere hills, and fermented and matured for nine months in oak barrels (15 per cent new). Bright, light yellow/green, it is an invitingly fragrant, full-bodied wine, with strong, ripe stonefruit flavours, showing very good complexity, finely integrated oak, balanced acidity and a creamy-textured finish. Savoury and harmonious, it should be at its best 2024+"
NZ Listener Magazine Top 30 NZ Chardonnays, April 2023
back to top