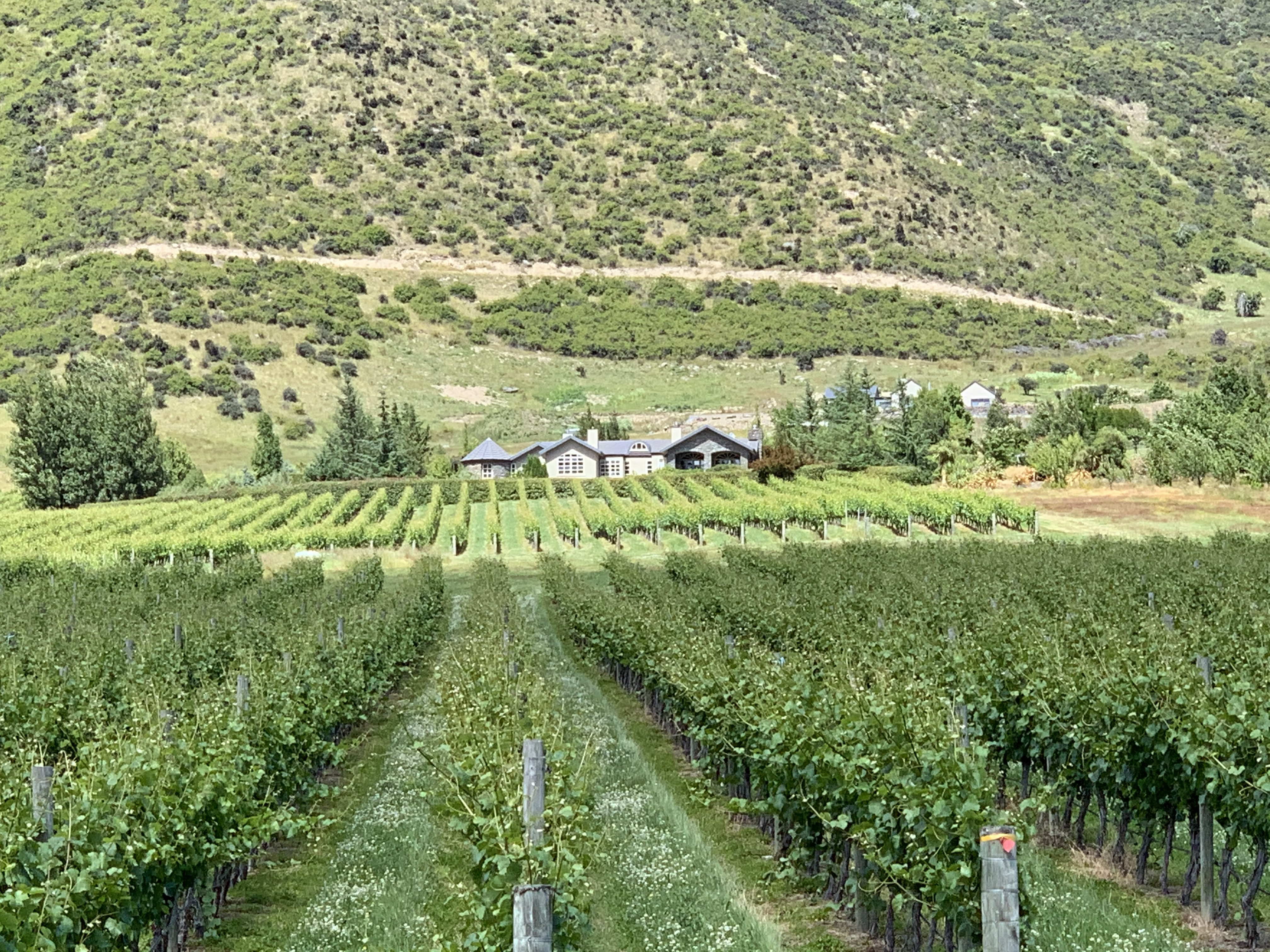 High Garden Vineyard Pinot Noir
"At their best Gibbston Pinots are the most complete Pinot Noirs in Central Otago, delivering a dense midpalate and great length as well as admirable austerity thanks to Gibbston's coolness." Matt Kramer in The Wine Spectator.
"While there is a question mark over the usefulness of carving up Central Otago, there are some areas that have a distinctive personality. In the coolest subregion of Gibbston, the Pinot Noirs evoke descriptions like: ethereal, transparent, pretty, floral, and herbal; Gibbston is typically the last place to harvest its grapes- it can be late as May and yet alcohol levels rarely breach 13.5% ABV and acidity is mouth watering," Rebecca Gibb MW author of The Wines of New Zealand.
"High Garden is the highest vineyard in Gibbston, on schist rock soils sloping towards the north with very long sunshine hours, making it one of the warmest sites in the coolest subregion for Pinot Noir." Robin Tedder MW Vigneron.
Story.
The High Garden Pinot Noir vineyard is owned and the fruit grown by Robin Tedder. Robin has been growing grapes and making wine since 1993. He became a Master of Wine in 1997 and first arrived in New Zealand in 1976 from Edinburgh Scotland where he was born and educated. High Garden is a happy return to NZ after several decades in Australia.
The vineyard soils at High Garden comprise a layer of schist rocks over gravelly glacial loess which has been washed down from the mountain range, behind the vineyard, over millennia. These soils provide ideal structure and drainage allowing deep rooting systems to form. There is enough organic matter and sub surface moisture to provide the vines with just enough sustenance to maintain a healthy canopy until winter starts to bite come late May. The mountain tops are covered in snow much of the year and there is a burn running down alongside the vineyard.
Situated at between 420 and 490 metres of altitude High Garden is the highest vineyard in Gibbston, Central Otago's coolest sub region. It has great exposure to long sunshine hours. There can be mist and shade at the bottom of the valley for between one and one and a half hours before the early morning sun arrives. The vineyard slopes down towards the north allowing for the free draining of both air, which minimizes frost risk, and water; although the vines are now dry land farmed.
Planted twenty years ago with a combination of clones on low vigour rootstock the vineyard is hand tended with great attention paid to canopy management and individual vine health in order to focus purely on grape quality. After multiple passes by the vineyard team during the growing season, with extensive thinning out of bunches at veraison, yields are kept very low. This is in order to allow for full phenolic ripeness to be achieved over the longest possible hang time. In 2020 the yield averaged just 25 hectolitres per hectare which is similar to the average yield at the Romanee Conti vineyard in Vosne Romanee, Burgundy.
The combination of a very long growing and ripening season with low yields per vine, allows for the development of intense fruit flavours and long silky tannin structures. The objective at High Garden has simply been to maximize quality no matter what. We only produce the one wine from the heart of the vineyard and just 2,364 bottles were made in the 2020 vintage.
The wine is made with absolutely minimal intervention. After three weeks or more on skins with primary fermentation occurring naturally with yeasts from the vineyard. The wine then goes through a slow malolactic fermentation in French barriques over winter and into spring. The wine is not racked, fined or filtered and usually goes to bottle in early March of the following year.
Technical.
Grape variety. Pinot Noir various clones (B667, B777, UCD5 and Abel).
Date first planted. 2001/02 seasons.
Size. Four hectares. Certified NZ Sustainable Vineyard.
Wine label. High Garden Vineyard Pinot Noir.
Viticulturist. Gary Crabbe highly experienced and a graduate of Lincoln.
Yield. 4.0 tonnes per hectare or 25 hecto-litres per hectare similar to the Burgundy Grand Cru Romanee Conti.
Date hand harvested May 1st 2020.
Winemaker. Jennifer Parr NZ Winemaker of the Year 2020.
Winemaking. 28% whole cluster. 13.5% ABV. pH 3.65. TA 6.4g/l. No enzymes and extended maceration with 21 days on skins. 10 months in small French Oak, 30% new. Unfined and unfiltered. Vegan. No additives.
Bottled on March 3rd 2021.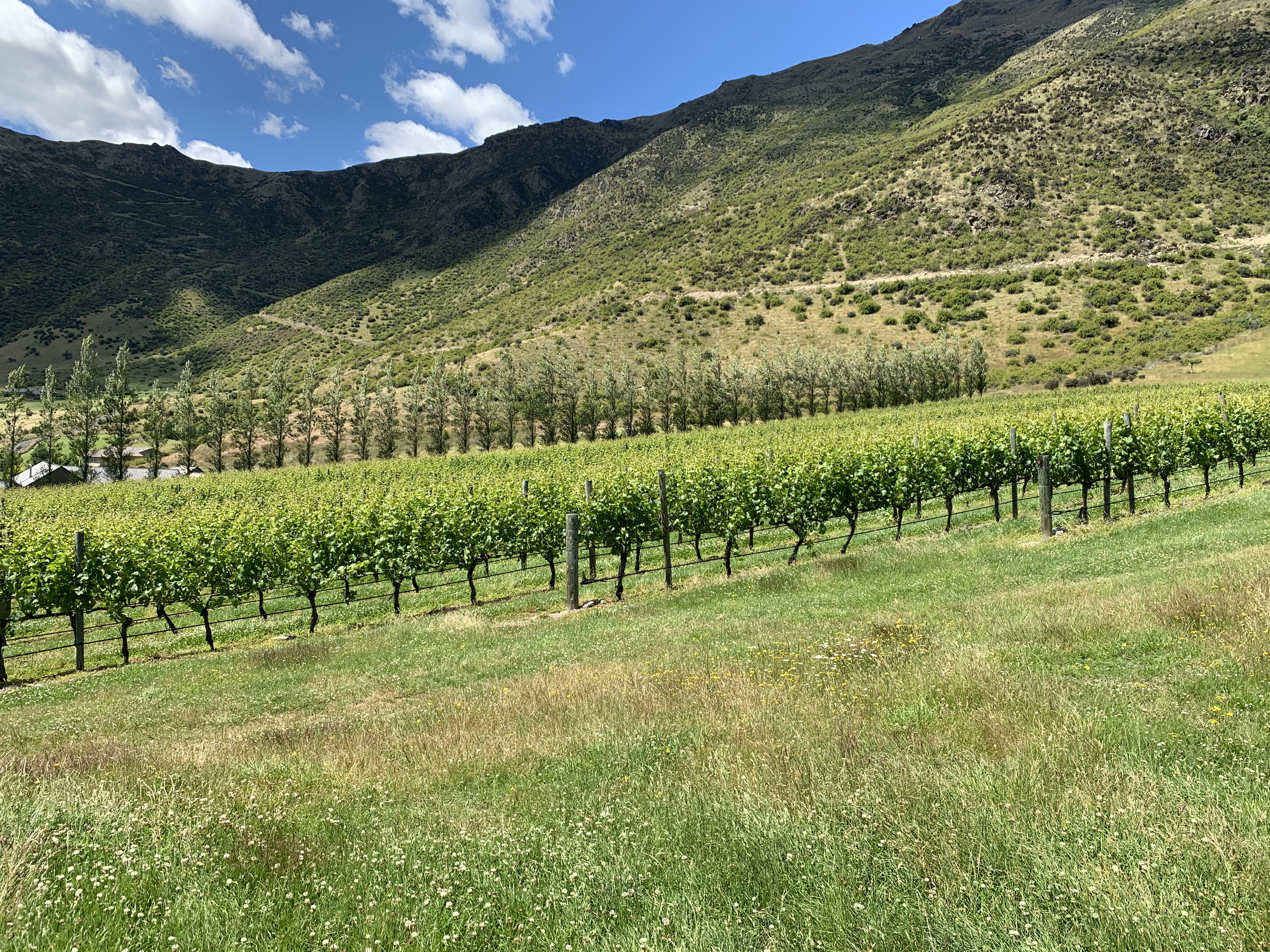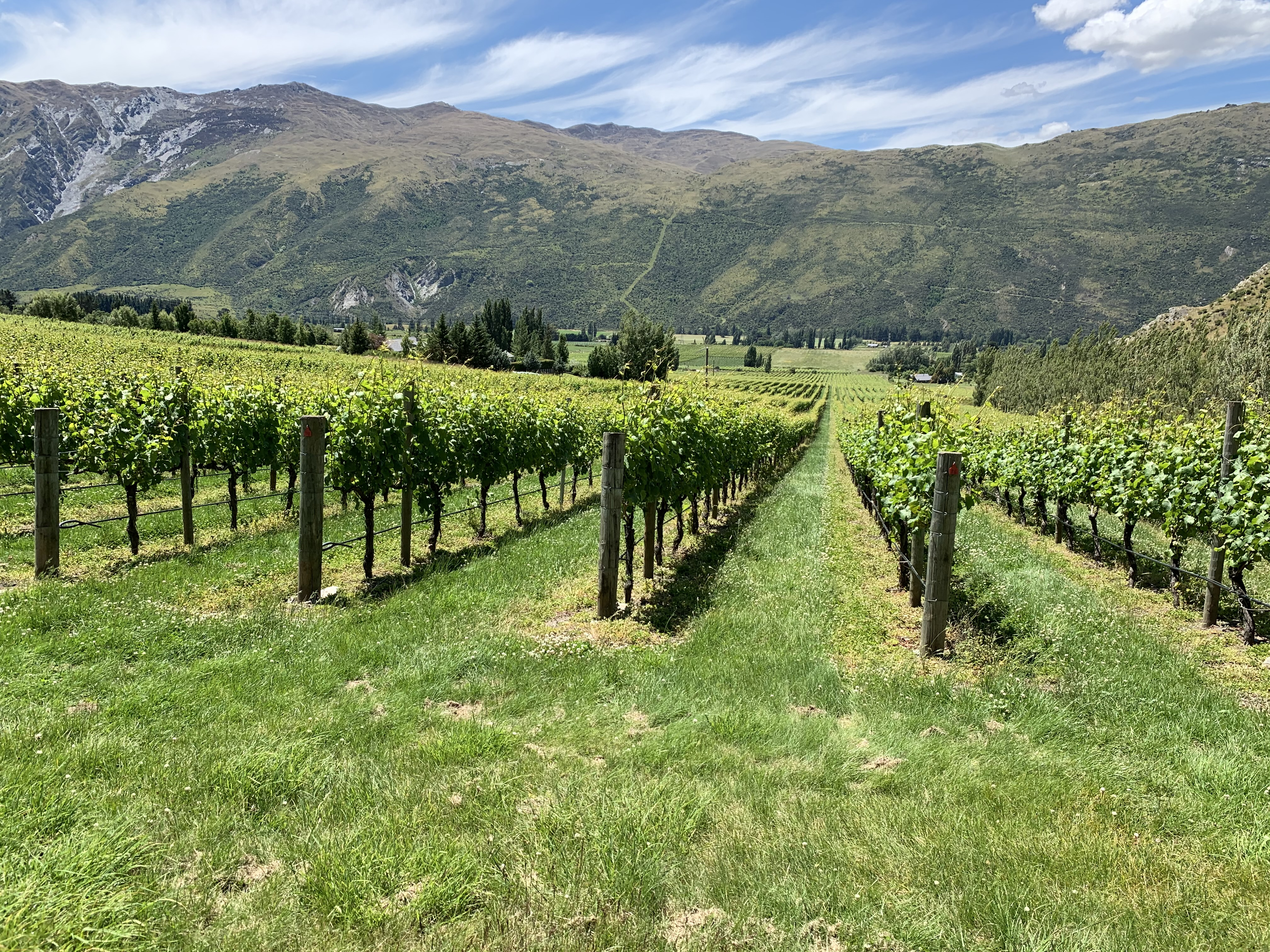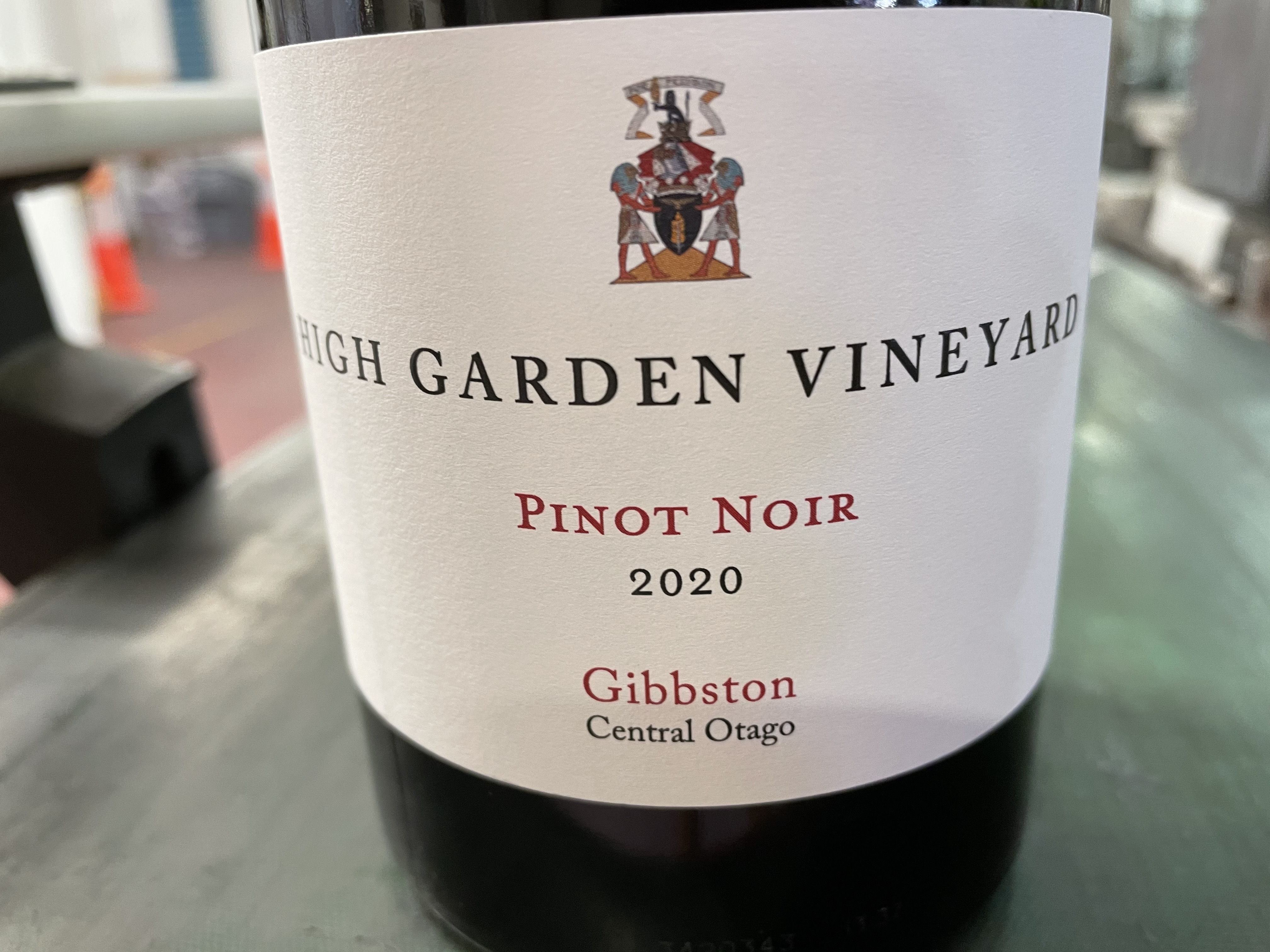 Reviews
Angus Hughson
97 points
Bottle price: $95
Drink: 2021 - 2030
This inaugural vintage of the High Garden Vineyard also comes with a hell of a lot of street credibility. It's the personal project of Robin Tedder MW and is the highest vineyard in Gibston, Central Otago's coolest region. It's planted on a steep north facing slope which was planted twenty years ago with a range of clones and was made by Jen Parr, who is also the acclaimed and award winning winemaker at Valli. Enough said really.
Mid cherry red in colour it opens with beautifully seductive aromas. Powerful sweet dark cherry fruit with prominent young oak are lifted by savoury mushroom consommé, and truffle with a dusting of spice. It's then dry, finely balanced and quite light weight for Otago thanks to that vineyard altitude, yet still carries a powerful core of fleshy, gamey fruits with bright acidity and mouthcoating tannins. The finish is long and strong, with a classic peacock's tail gaining more floral and spicy complexity as it lingers till the very end. It's seriously impressive and an outstanding first release. It might not be cheap, but it is worth every cent, and more.
Gourmet Traveller Wine
Andrew Caillard MW
Medium crimson. Beautiful intense black cherry, strawberry and dried roses aromas with underlying roasted chestnut, herb garden notes. Round and supple with abundant black cherry, strawberry, apricot fruits, fine persistent chalky/lacy textures, superb mid-palate viscosity and perfectly integrated vanilla oak. Finishes with a lovely long feathery plume. A brilliant debut wine with lovely complexity, volume and mineral length.
13.5% alc Drink now – 2028+
97 points
First release of an exciting new label from grapes grown in the highest vineyard in Gibbston. According to founder and winemaker Robin Tedder MW, it is one of the warmest sites in the coolest subregion of Central Otago. It is a supremely elegant pinot noir with bright cherry, red berry flavours underpinned by subtle fresh herb characters. Only 2, 364 bottles produced in the inaugural vintage.
Ratings: 95/100
Bob Campbell
back to top