Wild Earth Wines
Stoaker Edition Pinot Noir 2022 750ml
Wild Earth Wines Stoaker Edition Pinot Noir 2022 750ml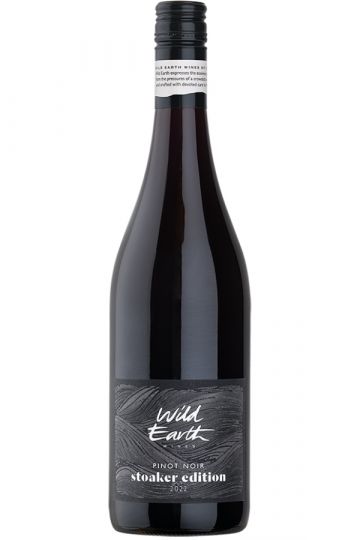 This is serious Pinot Noir that is all about fun with no pretence! A deliciously concentrated wine with an abundance of bright red fruit and a wonderful creamy texture. The cherry and raspberry vein is complemented by a hint of umami! Light on tannin and big on concentration, this is a brilliant wine for pairing with platters, fish and lighter meats. A special no-frills, full-thrills wine from an excellent vintage, that will age gracefully for 7+ years.
Wine making notes We're proud to present our second edition of Stoaker Edition Pinot Noir. The Pinot Noir grapes (Clones 943, 5 and 777) that created this beautiful wine came from established vineyards in Pisa (92%) and Alexandra (8%). The fruit was hand-harvested at optimal ripeness with harvest dates ranging from late March to early April 2022. Several different ferments went into the blend ranging from 0-25% whole bunches per fermenter with the resulting blend having around 10% whole clusters, which aids the tannin structure and aromatics of the wine. The total time on skins ranges from 20-28 days. The wine was aged in stainless steel tanks (60%) and fine-grain aged French oak barrels (40%) for approximately 10 months. Our winemaker, Jen Parr, selected exceptional fruit from 2 vineyards in Central Otago to create a fresh and elegant wine that is exciting and highly drinkable.
This vegan wine is unfined and unfiltered.
Alcohol: 14% PH: 3.62 T.A: 5.4 Residual Sugar: dry
$45.04AUD
Price based on case of any 15x 750ml bottles, all-inclusive of freight, taxes, duty and insurance from NZ Producer to your door in Australia. All prices based on live exchange rate.
back to top