Welcome to the Frenchmans Hill Estate
e-cellar door
THE POORER THE SOIL, THE GREATER THE WINE
Frenchmans Hill Estate is ideally positioned on the steep northern slopes at the base of the Te Whau Peninsula on iconic Waiheke Island. The soil is impoverished pink clay which is gravelly, sandy and free-draining. The earth is described as quartz kaolinate over greywacke sub-rock which is mineral rich. As the french say "plus pauvre le sol, plus grand le vin".
In 1821, wanting to avenge previous defeats by Tāmaki tribes, the Ngāpuhi leader Hongi Hika launched an attack on Waiheke. With 2,000 men and 1,000 muskets he stormed two Ngāti Paoa pa (fortified settlements) adjacent to Frenchmans Hill Estate. According to legend the battle turned the waters red, hence our famous Blood Creek 8, symbolising the bloodshed.
The area is a perfect combination of maritime climate, pedigree wine selections, coastal soil and people to create some of New Zealand's most profound wines. It is very similar climatically to the Medoc Region of France.
---
DISCOVER UNIQUE EARTH EXPRESSION
Born and raised in Wellington, New Zealand, our master winemaker - Luc Desbonnets travelled to France to learn his father's culture and at the same time, fell in love with the world of viticulture while working for a vineyard in the Medoc appellation area of Bordeaux. One passionate spark of interest became a lifelong legacy for Luc Desbonnets. Luc continued to pursue a degree in winemaking and viticulture in Bordeaux and spent the next 30 years learning and honing his craft in Eastern Europe and around the world.

The creation of Frenchmans Hill on Waiheke Island in 2006 is in itself the crystallised work of Luc's uncompromising principle of traditional French winemaking art. The makeup of the wine is determined by the four French tenets - earth, climate, vine and human - known as Terroir. For Luc, however there is a fifth tenet that is the spirituality and history of the land or whenua. As a winemaker, viticulturist and landowner, Luc honours the essence of the Wairua (spirits) continuing to guard "kaitiaki", the land. Waiheke Island brings an abundance of impoverished sandy/ gravelly clays that produce the matching and vibrant vines to various micro sites. The result is some of New Zealand's highest quality of Bordeaux inspired reds with "unique earth expressions" that Luc desires and ultra fine NZ artisan wines.

We believe authentic artisan products come from the SOUL. Frenchmans Hill is an everlasting tell-tale of the ancient history of Waiheke Island and Luc's life journey to create finely crafted NZ artisan wines. All are documented through the dances of the unique flavour profiles of concentrated fruits and French oak barrel aromas. From the rich Rock Earth Syrah 2013 to the youthful Pukeke NV, our wine creation has consistently garnered various prestigious awards from Bob Campbell MW.

From preserving the hand- pruning process to the French cork wax pouring method, Luc brought the vision of Frenchmans Hill to life from the utmost respect for tradition, a focus on healthy hand-picked vines, the spirit of the land, environment and ultimately the finest selection of wine for our most discerning drinkers.

Enhance your wine collection with our award-winning NZ artisan wines from Waiheke Island. Discover our varieties - browse the collection.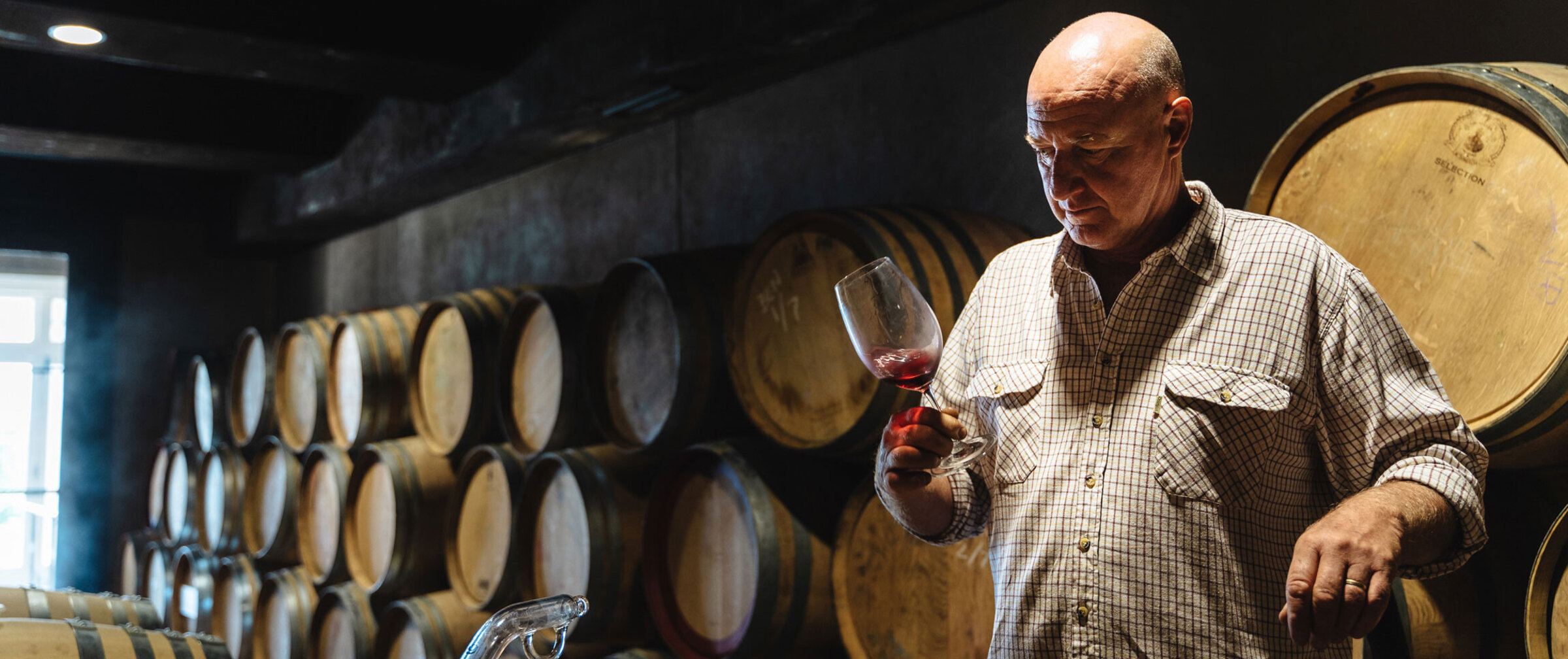 Reviews
95/100 – Bob Campbell MW
"Dense, flavoursome Syrah with ripe plum, dark berry, cassis, cocoa powder, black pepper and nutty oak flavours. An impressive wine with depth and personality. Elegant but generously proportioned." – Bob Campbell MW
95/100 - "Outstanding" - Cam Douglas MS
"Powerful and distinctive bouquet with aromas of dark berries and spices, baked blackberry pie, dried raspberries, aged meats and pepper. Youthful, complex, rich in character and bouquet. This is a big and bold wine on the palate, has power and muscle, a core of fruit and an equally bold statement of oak. Warming alcohol, a back bone of acidity, the flavours of dark berries are as forceful as those of smoky wood and tannins. The finish has flavours of plums and black currants, wood spice and clove. Young still and needing some cellar time, but with the right food can be enjoyed from today and through 2030+."
95/100 – Bob Campbell MW
"A blend of cabernet sauvignon 36%, merlot 17%, petit verdot 15.5%, cabernet franc 8.5%, tannat 8.5%, syrah 8%, viognier 3.5% and kolor 3%. Dense red with dark plum, berry, new leather, violets, anise, spice and nutty oak flavours. High energy wine with a thread of acidity adding vibrancy. An intriguing wine with obvious potential." – Bob Campbell MW
5 stars - Michael Cooper
95/100 – Bob Campbell MW
"A blend of eight grape varieties. Dense, ripe and almost syrupy red with Christmas cake dried fruit and nut flavours plus dark chocolate, liquorice and spice oak. High acidity and firm, ripe tannins suggest good cellaring potential - the wine is still quite youthful. A complex red." – Bob Campbell MW
A bottle of Blood Creek 8 2013 was presented to Queen Elizabeth II as a gift from Waiheke poet Selina Tusitala-Marsh in 2019.
5 stars – Michael Cooper
"Grown on an 'elevated coastal headland', the 2013 vintage was matured in new French oak barrels for 15 months. Deep and bright in colour, it is sturdy (14 per cent alcohol), youthful and very finely textured, with generous, ripe, plummy, gently spicy flavours, fine-grained tannins and obvious potential. Showing great harmony, it's already delicious, but should be at its best 2018 onwards." – Michael Cooper
95/100 – Bob Campbell MW
"Made from 70% 2018 syrah and 30% unoaked 2019 cabernets, petit verdot and tannat Elegant, supple red with floral, violet, blueberry, blackberry, fresh herbs and subtle spicy flavours. A silken-textured wine with an impressively lengthy finish." – Bob Campbell MW.
back to top