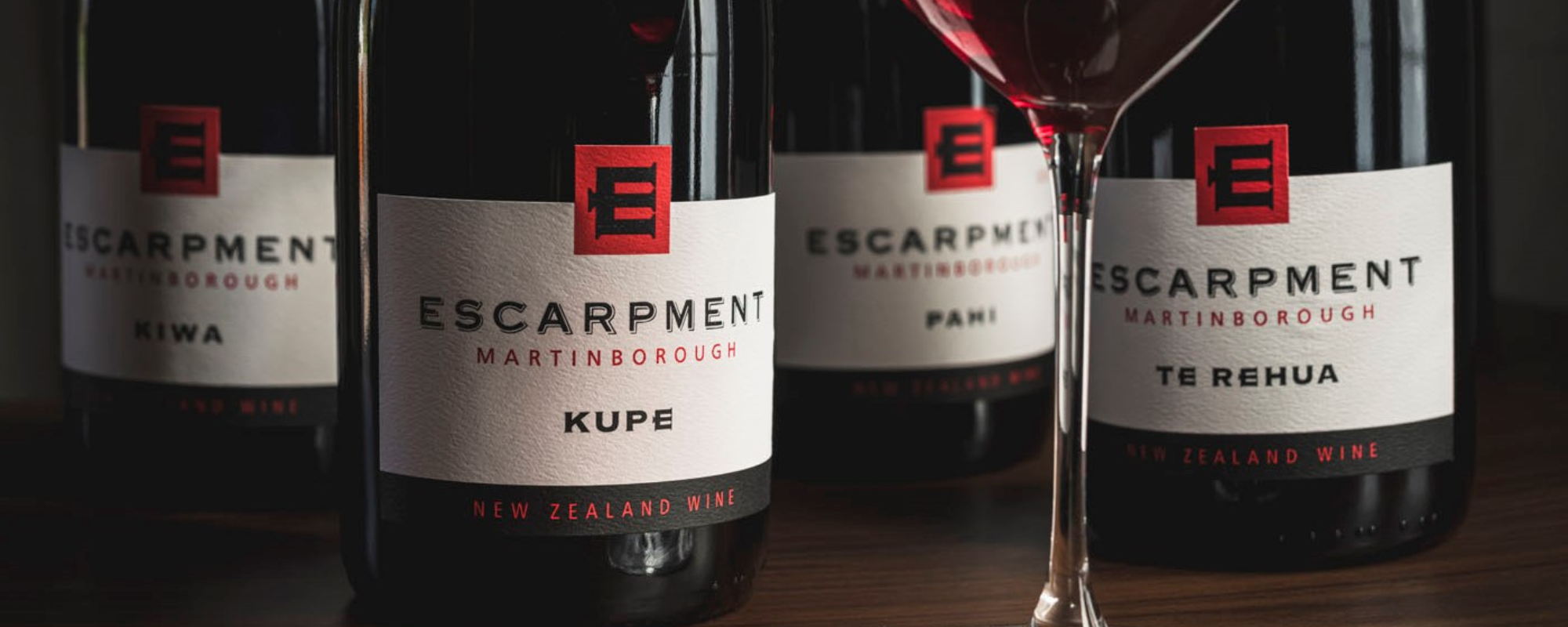 Welcome to Escarpment Winery
Our Story
At Escarpment, we have created an expression of New Zealand Pinot Noir, Chardonnay, Pinot Blanc and Pinot Gris which has evolved over 35 years of dedication to these varieties. Sculpted by Winemaker Tim Bourne and Viticulturist Rowan Hoskins from fruit entirely originating from Martinborough vineyards on the fabled alluvial gravels. We are interested in the structure, complexity and fruit expression of our wines and how they are pronounced from single sites.
Our quality focused winery is based on Te Muna Road, Martinborough. 'Te Muna' in Māori, means 'secret' or 'special place' and to the people at Escarpment that is exactly how we feel about the land and what it means to live, grow and make wine here.
A Unique Sense of Place
Escarpment strives to produce wines that capture a unique sense of place. Our home vineyard on Te Muna Road is situated just minutes east of Martinborough village, with 24 hectares of distinctive alluvial gravel, terraced land stretches out along the banks of the Huangarua River. The soils of the vineyard are alluvial loams that were formed by the Huangarua River over 20,000 years ago. With very deep alluvial gravels now layered over the loams this composition ensures exceptional drainage, one of the key prerequisites for nurturing and producing premium quality, healthy grape vines.
Much like the great wines of Burgundy, Escarpment names their top Pinot Noirs after the vineyards from which the grapes were grown, rather than the grape variety. The Single Vineyard Kupe, Pahi, Te Rehua and Kiwa demonstrate this philosophy with distinctive elegance and character.
Escarpment sources fruit from our own vineyards as well as from select growers around the Martinborough township. We are lucky enough to enjoy long term, established relationships with our growers that is reflected in the quality of our wines.
The Legend of Kupe
The Aorangi Ranges, the very hills made famous, according to Māori legend, by Kupe the great Polynesian voyager who discovered Aotearoa New Zealand, form an impressive backdrop to the vineyard.
It is related that Kupe left his three canoes, Nga Waka, on top of the Aorangi Ranges, giving rise to the now familiar landmark of the district, which overlook the vineyard, the 'Nga Waka-o-Kupe' or the three flat-topped hills, which resemble unturned canoes. The warrior Kupe and his story provided the inspiration for Escarpment's flagship wine, Kupe.
Reviews
97 – 2020 Kupe Pinot Noir.
BOB CAMPBELL

""Flagship wine from the Home Block, first planted in 1999. Seductive pinot noir with a core of sweet, ripe plum and cherry flavours together with floral and spice noted. Deliciously approachable now but with cellaring potential."
92 – 2019 Te Rehua Pinot Noir
JOE CZERWINSKI

"The perfumed, floral 2019 Te Rehua Pinot Noir features scents of rose petals, red raspberries and tea leaves. Medium to full-bodied, it's wiry on the palate, with ample concentration and firm tannins, accentuated by bright acids. The finish ends up being taut and slightly astringent, in need of cellaring to reach its best."
back to top