Bilancia
Uvaggio 2020 750ml
Bilancia Uvaggio 2020 750ml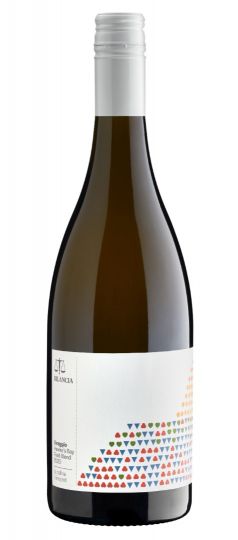 uvaggio Italian (u-vàg-gio) field blend/field wine
….where grape varieties are growing in the same vineyard. "...a grape blend prior to fermentation."
From la collina vineyard, where eight rows of interplanted Viognier, Marsanne and Roussanne are hand-harvested and the breakdown is measured (approximately) in picking buckets. These eight rows are all that remain of the original Viognier vines planted in 2001. Over half the vines needed to be replaced in 2017 and the spaces between the remaining vines were replanted with Marsanne and Roussanne.
Harvested by family and friends in a bubble during the strange yet amazing vintage that was 2020.
The fruit is 100% hand-picked, whole bunch pressed to old French oak barriques for fermentation. The wine remained in these barrels for 11 months prior to removal for bottling.
The 2020 Uvaggio is Viognier dominant by variety however, the wine shows the strength of characters of the blend. Floral, perfumed aromatics from Viognier tempered by the honeysuckle fruit character of the Marsanne and white flowers of Roussanne. The palate has lush, floral fullness together with deep set acidity giving both length and weight.
This wine is ready to drink on release and will continue to develop positively for 6 – 8 years.
(The artwork represents the vineyard plan of the eight rows of Rhône white varieties, Viognier, Marsanne and Roussanne. The gold symbols represent the Chardonnay clones and links the Tiratore and Uvaggio wines from la collina).
$94.01AUD
Price based on case of any 15x 750ml bottles, all-inclusive of freight, taxes, duty and insurance from NZ Producer to your door in Australia. All prices based on live exchange rate.
back to top