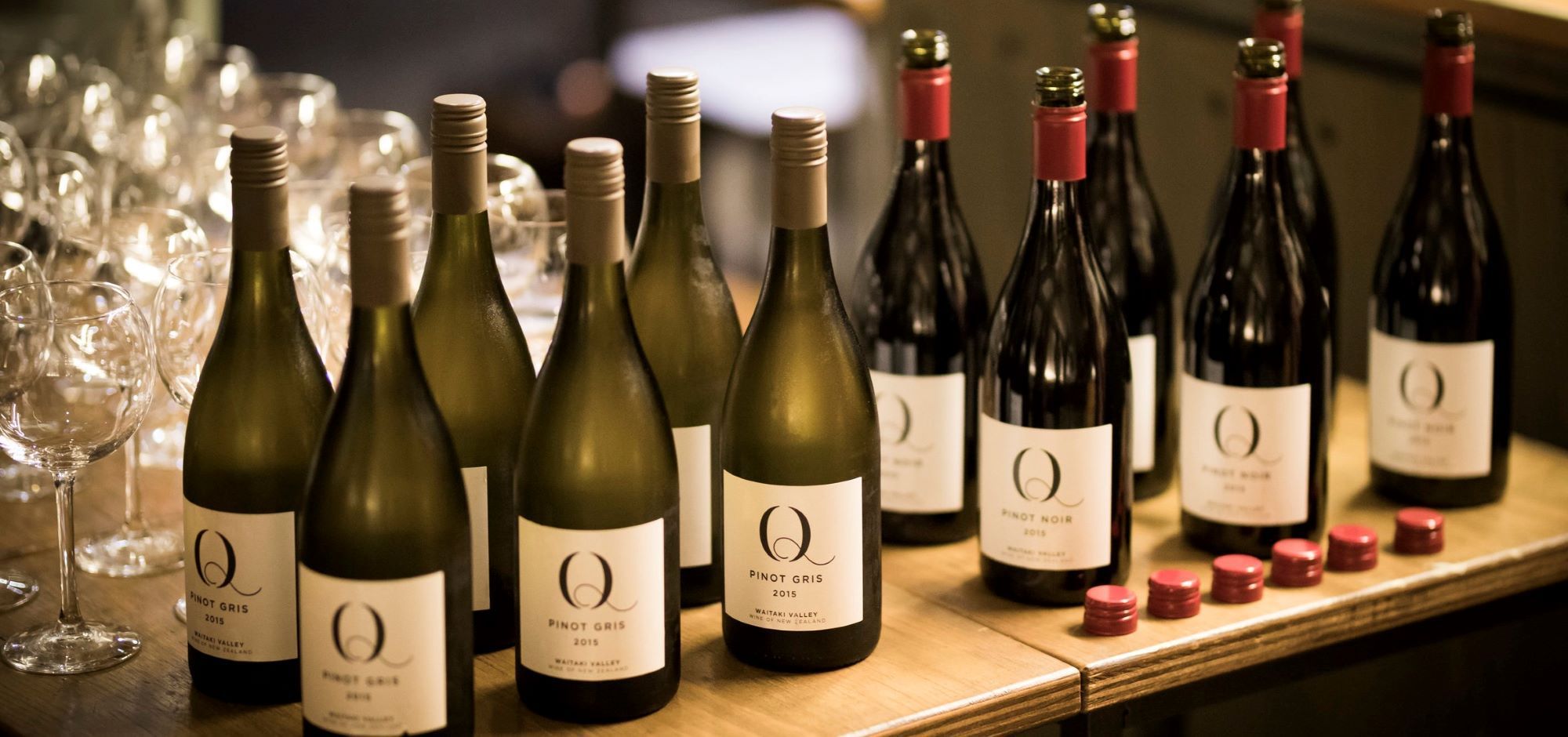 Welcome to Q WINE
e-cellar door
Q Wine produces a premium Pinot Gris, Chardonnay, Pinot Noir and Pinot Noir Rose from the South Island's most up and coming wine region, Waitaki Valley.
Located near the charming village of Kurow in picturesque Waitaki Valley, North Otago. The Waitaki Valley is known for its limestone rich soils and long dry summers.
Auckland business woman Jules Matthews launched the brand 16 years ago with the 2010 vintage of Pinot Noir and Pinot Gris immediately finding favour with discerning wine drinkers.
Q Wine is committed to excellence on all fronts, producing memorable wines with each subsequent vintage receiving numerous accolades from prominent wine critics and drinkers both in New Zealand and abroad. Q Wine is a passionate supporter of New Zealand's food scene and is found in top restaurants and luxury lodges throughout the country.
The vineyard is committed to sustainable farming practices, hand cropping, with winemaking honouring traditional techniques which results exceptional wines with pronounced concentration. A boutique vineyard producing premium batch wines, Q Wine is committed to capturing the essence of the Waitaki Valley in every bottle.
Taut, edgy and powerful, Q Wine epitomises new and creative wine with exceptional flavour.
Reviews
Q Chardonnay 2019
19-/20 pts

Bright, even, light yellow with some depth. The nose is elegant and poised, nuances of stonefruit, lemon, along with subtle florals, melded with vanilla, curd and oak spice element. Medium-bodied, flavours of apricots, peaches, lemon sherbet, flows on a creamy palate reminiscent of panna cotta, subtle spices and crunchy minerals to linearity. The fruit has good concentration and intensity, ripe with great flavours. The acidity is balanced and calming, flows with delicate spices and carries stony minerals and a fine layer of chalky phenolic texture to a lengthy finish. This is elegant and poised Chardonnay with excellent flavour intensity, balanced acidity on a creamy palate flows with stony minerals.
@CandiceWineChat - Raymond Chan Wine Reviews
Q Pinot Noir 2017
95 Points / 5 Stars

Superbly complex and inviting, the bouquet shows dark berry, thyme, toasted nut, anise and vanilla characters with subtle mushroom and olive notes. The palate is wonderfully weighted and rounded, delivering layers of rich texture and delectable flavours, elegantly framed by plenty of polished tannins. At its best to 2024.
Wine Orbit
Q Pinot Gris 2020
18.5+/20 pts

Bright, even, light yellow with some depth and a slightly lime hue. The bouquet is gently full with aromas of sweet pear, quince, white blossoms and a hint of spice. Medium-bodied, dry to taste, pears, quinces, apricots have a good core of concentrate, melded with white flowers and a touch of five-spice. The wine is fresh and bright with excellent depth of flavour intensity, showing the varietal characters as well as the Waitaki Valley terroir. The acidity is taut and focused carries the flavours thorough the palate with grace, along with crunchy minerals and a light phenolic grip to lengthy linearity. This is a dry Pinot Gris with aromas of pear and stonefruit, along with subtleties of white blossoms, five-spice and minerals and an excellent acid drive.
@CandiceWineChat - Raymond Chan Wine Reviews
back to top