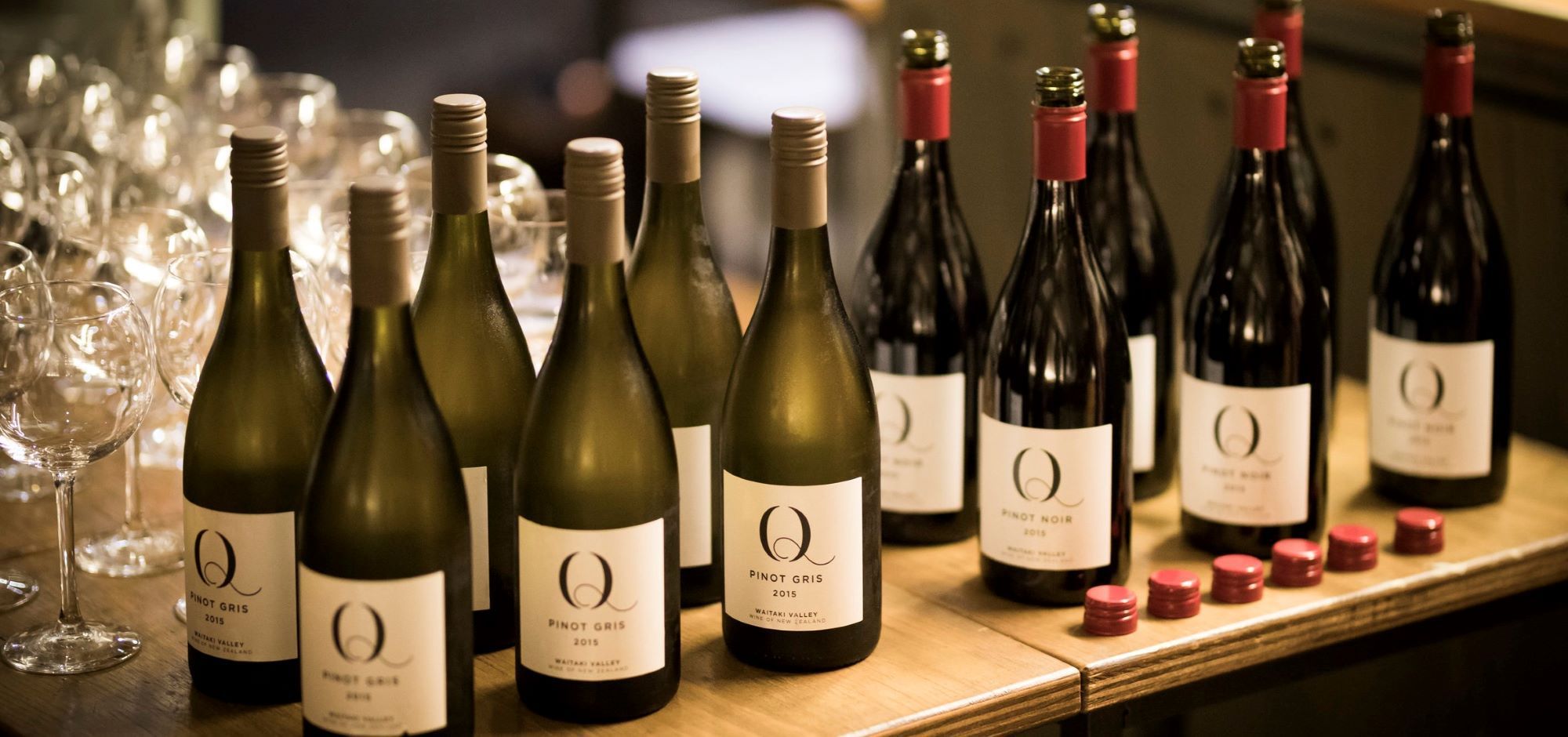 Welcome to Q WINE
e-cellar door
Q Wine produces a premium Pinot Gris, Chardonnay, Pinot Noir and Pinot Noir Rose from the South Island's most up and coming wine region, Waitaki Valley.
Located near the charming village of Kurow in picturesque Waitaki Valley, North Otago. The Waitaki Valley is known for its limestone rich soils and long dry summers.
Auckland business woman Jules Matthews launched the brand 16 years ago with the 2010 vintage of Pinot Noir and Pinot Gris immediately finding favour with discerning wine drinkers.
Q Wine is committed to excellence on all fronts, producing memorable wines with each subsequent vintage receiving numerous accolades from prominent wine critics and drinkers both in New Zealand and abroad. Q Wine is a passionate supporter of New Zealand's food scene and is found in top restaurants and luxury lodges throughout the country.
The vineyard is committed to sustainable farming practices, hand cropping, with winemaking honouring traditional techniques which results exceptional wines with pronounced concentration. A boutique vineyard producing premium batch wines, Q Wine is committed to capturing the essence of the Waitaki Valley in every bottle.
Taut, edgy and powerful, Q Wine epitomises new and creative wine with exceptional flavour.
Reviews
Q Pinot Gris 2022
93 Points
Complex, pure, ripe and enticing bouquet with aromas of spicy pear, apple and quince. Lush satin texture touches the palate with core fruit flavours of white nectarine and citrus, pear and apple then a touch of quince. Acidity and warming alcohol add breadth and weight as well as contrast to the fruit.
Cameron Douglas MS
Q Rose 2022
93 Points
Sweet red cherry, ripe cranberry, roses and mineral highlight the complexity this wine has to offer. These scents translate to the palate seamlessly with a mineral core then red berry fruit flavours, spice and super fine tannins. Salivating and dry, a wine for summer.
Cameron Douglas MS
Q Pinot Noir 2021
94 Points
Bright, moderate crimson, lighter edged. This is a soft and delicate bouquet filled with raspberries, cherries melded with fine spices, red blossom and a hint of minerals. Medium-bodied, elegantly presented, raspberries, red cherries and red currants interweave rose, earth and minerals, subtle spices of cinnamon, nutmeg and black peppercorn linger to a lengthy finish. The fruit has weight and depth of flavour, growing in volume with floral fragrance and spice. Supple, silky tannin echoing chalky minerals added mouthfeel. This red-fruited Pinot Noir shows depth and elegance of fruit, delicate spice, and minerals details on a silky, long finish.
@CandiceWineChat
back to top